This Sunday's Iceni Velo club run headed down to south-west Norfolk, so that we could cheer on the racers in Diss & District CC's Hopton ...

Recreation 30 Jul 2016
Here are some photos of the Worstead '5, a running race on rolling back lanes starting in the village square and finishing on the playing field ...

Cycling 24 Jul 2016
Iceni Velo had a great club run down to the Angel Cafe in Diss, returning to the York Tavern in Norwich for the club's Tour de France prize ...
Cycling Performance Programme 18 Jul 2016
July 18: Powering down in the 100-mile time trial Despite a healthy taper in the previous week and feeling good on the start line, I saw my ...

This was a good day for fast times on the A11, with dry and warm weather, although a rising westerly breeze was causing problems later in the ...

Sports Gear: Under Test 14 Jul 2016
Altura is renowned for making bike-mounted bags that last, and my experience of them fits that description exactly. The pannier bags pictured ...

Fun Stuff 14 Jul 2016
I see Pokémon Go as a massive opportunity for keeping my kids busy over the Summer holidays! Read on to see how it's going to work... ...

Cycling 09 Jul 2016
This ride was a bit of a tester for this Autumn's 12-hour time trial, a discipline that I haven't ridden for twenty years. The distance I ...

Lots of enthusiastic crowds cheering on the racers tonight! There were road categories for youth, women and men, plus BMX, MTB, Cycle Speedway ...

Fifty riders faced showers and puddles on the A143 in the Sunday morning 50-mile East District Time Trial Champs. Air temperature was mild ...

Cycling 15 Jun 2016
Iceni Velo and VC Norwich had a fabulous time chasing around after the Aviva Women's Tour as the racers raced between Southwold and Norwich ...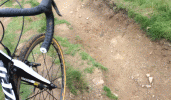 I took part in an amazing three-day riding challenge in the Peak District, organised by Simple Cycle Tours. The challenge was all road-based ...

Calm, muggy conditions had a bit of a dampening effect on riders' times, but it was a relief to be riding with a bit of sun and warmth! Riders ...

After a fortnight of cold, gloom and wind and rain, the skies finally cleared and the 800 time triallists enjoyed the 16-mile event in mild ...

Multiple last-minute roadworks in the area made things difficult for CC Breckland's Geoff Muller, but he and Don Saunders worked hard to lay ...