Recreation 30 Aug 2015
This was the first time roads were closed in the centre of Norwich for a 10-kilometre running race, and it went exceptionally well! There ...

Daniel Bloy (Team Velovelocity) posted a convincing win in the 30-mile time trial on the All dual carriageway, finishing almost two minute ...

Time Trialling 13 Aug 2015
For years I've been riding time trials with a standard pointy "Giro Advantage" aero helmet, and apart from the amplified road noise am quite ...

Daniel Bloy was in winning form on the rolling B25/33 course at Fincham, on a warm and reasonably calm afternoon. There was quite a lot of ...
Strava tools 07 Aug 2015
Get more efficient with your Strava feed! Here you will find the activities of everyone you're following, but prioritised by each athlete ...

Strava tools 07 Aug 2015
Here are the segments that you've favourited on Strava, maybe for future targeting or to keep an eye on how you're doing.

Cycling 03 Aug 2015
I run a single chainring on my time trial bike, and until recently haven't bothered with a front mech or any sort of chain guide. However ...

Cycling 02 Aug 2015
I headed down to Buckinghamshire to compete in the Men's National 25-mile time trial, and made sure to squeeze in some hilly miles in the process ...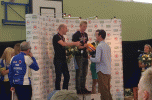 All 111 finishers enjoyed almost perfect weather conditions for the "Blue Riband" time trialling event of the UK, and Ryan Perry (Langdale ...

Computing 31 Jul 2015
During the installation of Windows 10, I was presented with the "Customise settings" screen that explains what sort of data it wants to upload ...

My Car Costs 26 Jul 2015

The weather was good and times were fast for the 70 riders of this 100-mile time trial. In overcast and calm conditions, the air temperature ...

Once again there was sunshine, warmth and torrential rain for the Norfolk Cross. This time the women and vet50+ riders got a drenching, as ...
Strava tools 07 Jul 2015
Are you a member of any clubs that have a presence on Strava? You will find all sorts of stats and details here!

The annual Gas Hill Gasp event returned once more to the steepest road in Norwich, after missing a year due to the Tour de France's start in ...