Cyclocross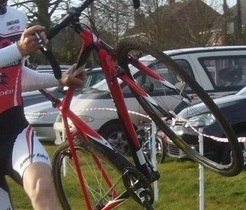 Cyclo-cross is the less well known of the cycling disciplines, maybe because it doesn't qualify for either the winter or summer Olympics calendars. It really is a mixed bag! Having said that, the sport is in rapid growth, at all ages, although it's still not as popular with women and girls. Races are typically broken up by age groups.
Regional Leagues in the UK
There are a number of UK cyclocross leagues that anyone with a British Cycling license can join. Here is a list, heading roughly from South to North:
If I've missed any out, give me a shout!
This search box will only get results from selected cyclocross websites:
Useful Links
For some useful background information from someone that knows, watch this British Cycling video featuring David Fletcher (2008, 2009 UK cyclocross under-23's champ):
Further Reading
Now that the league is open for online registration, I thought it would be good to have a page of useful information about it. Registration ...

All cyclocross course are the same, right? Wrong! They all have certain basic requirements - fast off-road riding, obstacles, technical sections ...

If you are thinking about having fun on your bike but don't fancy racking up miles on the road, then cyclo-cross may be for you. Here you ...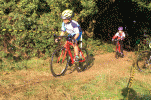 Colchester Rovers did a fantastic job with the classic Furze Hill course at Mistley. It was still run anti-clockwise, with the start running ...

A fine day's racing on a mild and sunny October morning - although it did start spitting with rain as the women's/vet50+ race started up! ...

The terrain was always going to be the biggest challenge at Hadleigh Park, the venue of the 2012 Olympic MTB events. Despite missing out on ...

The course was almost bone dry and with lots of long dry grass, despite a lot of rain two days earlier. The younger riders raced first in ...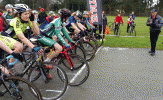 This was an epic course put on by Steve Grimwood and the Elmy Cycles crew (with a little help from some cycling buddies). It featured two ...

A mild, dry morning greeted the early, young racers for the Eastern Cross League's penultimate event, the Chris Cross. Plenty of recent rain ...

Soft, leafy mud was the order of the day for Push Sport's event, the Eccles Cross. There were some grass stretches and some slippery concrete ...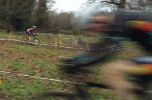 Slippery mud and wet grass was the order of the day for the Stow Scramble cyclo-cross racing at Chantry Park in Ipswich. There was very little ...

Conditions were hard-going for the racers of all age categories in the UK's south-east regional cyclocross championships, mostly because of ...

Despite strong gusting winds and the occasional blast of rain, all the races went off without a hitch at the Trinity Park Showground. Here ...

Many riders were looking for a cleaner, calmer day of cyclo-cross racing after the previous day's mud-fest at Redgrave, but it mostly wasn ...

This was a proper muddy, cold, wet, windy and basically tough day of cyclo-cross racing, with the early under-10 and under-12 riders having ...