Cyclocross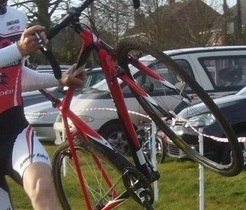 Cyclo-cross is the less well known of the cycling disciplines, maybe because it doesn't qualify for either the winter or summer Olympics calendars. It really is a mixed bag! Having said that, the sport is in rapid growth, at all ages, although it's still not as popular with women and girls. Races are typically broken up by age groups.
Regional Leagues in the UK
There are a number of UK cyclocross leagues that anyone with a British Cycling license can join. Here is a list, heading roughly from South to North:
If I've missed any out, give me a shout!
This search box will only get results from selected cyclocross websites:
Useful Links
For some useful background information from someone that knows, watch this British Cycling video featuring David Fletcher (2008, 2009 UK cyclocross under-23's champ):
Further Reading

All cyclocross course are the same, right? Wrong! They all have certain basic requirements - fast off-road riding, obstacles, technical sections ...

If you are thinking about having fun on your bike but don't fancy racking up miles on the road, then cyclo-cross may be for you. Here you ...

Once again there was sunshine, warmth and torrential rain for the Norfolk Cross. This time the women and vet50+ riders got a drenching, as ...

09 Jun 2015
The fixture list for the 2015/16 Eastern Cyclo-Cross League is live, and it's going to be another busy season! Here are the highlights: ...

The under-10, under-12 and youth races were played out as individual races, so not as a team. The vet50+ and women riders rode a lucky dip ...

There was plenty of fast racing on a new-look course at Trinity Park, with reasonably firm grass sections and enough road to spin the mud off ...

It was back to the arena and bomb hole for the end of year Chris Cross event hosted by Iceni Velo. Recent heavy rain turned the grass to mud ...

The day's racing was set in chilly but sunny conditions, and most riders enjoyed a fast but technical course. A few people had heavy falls ...

Norwich ABC's first attempt at hosting a cyclocross event turned out to be a resounding success, with great facilities, course conditions and ...

The first of three cyclocross events at Trinity Park in Ipswich saw an exceptional amount of rain fallng from mid-morning onwards, turning ...

Massive respect to the marshals and spectators on a day that started benignly enough, but turned into a monsoon as soon as the women/vet-50 ...

A great first event by VC Revolution in Colchester, at the same Hilly Fields location but with a completely revamped course. Overnight rain ...

Barry Denny & co of West Suffolk Wheelers put on a great event for round 9 of the Eastern Cross League, with a great mix of tarmac, grass ...

Everyone enjoyed a really warm day of racing and spectating at the Mistley Cross event on Furze Hill. After last year's storm damage, the ...

A soggy bottom caused by recent heavy rain did little to slow the pace in all the races at Chelmsford's Springfield Hall Park on Sunday. There ...