Cyclocross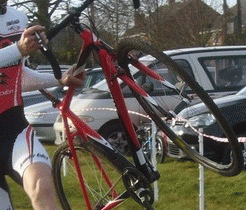 Cyclo-cross is the less well known of the cycling disciplines, maybe because it doesn't qualify for either the winter or summer Olympics calendars. It really is a mixed bag! Having said that, the sport is in rapid growth, at all ages, although it's still not as popular with women and girls. Races are typically broken up by age groups.
Regional Leagues in the UK
There are a number of UK cyclocross leagues that anyone with a British Cycling license can join. Here is a list, heading roughly from South to North:
If I've missed any out, give me a shout!
This search box will only get results from selected cyclocross websites:
Useful Links
For some useful background information from someone that knows, watch this British Cycling video featuring David Fletcher (2008, 2009 UK cyclocross under-23's champ):