Time Trialling
Cycling Time Trials (CTT) is the authoritative body for time trialling in the UK. It has a highly active and forward-looking membership, and this is reflected in its informative and up-to-date website. A handful of events allow online entry; you can filter for these on the main CTT website, or go to the Online Event Entry portal to sign up and enter. (Note that payment is by credit or debit card, and there's a 70p surcharge as a result.)
Norfolk and East Anglia Time Trials
East District time trials (open events) for 2014, on the CTT website: All 2015 events - March 2015 - April 2015 - May 2015 - June 2015 - July 2015 - August 2015 - September 2015 - October 2015 - November 2015 - December 2015
Norwich ABC club events, starting from Ketteringham and Besthorpe (10 miles SW of Norwich).
North Norfolk Wheelers club events, starting near Sheringham (on the north coast).
Please note that it is a courtesy for non-members to contact the club (eg, their TT captain or club secretary) beforehand. Club events are primarily for club members, so don't just turn up unannounced if you're from another club!
Entry Forms
It's now really easy for you to keep track of your results and enter a time trial.
Just select an event duration below to get started!
Map of Time Trial Courses
This map shows the start points of selected time trial courses. It isn't complete! Please contact me if you'd like to add some in your own region, or if I've made any mistakes.
View
UK Time Trial Locations
in a larger map
Time Trial results and photos
My Personal Bests
10 miles - 21:07 CC Breckland event (B10/3E) on 3 June 1998, won by Martin Pyne (20:56)
25 miles - 54:44 Norwich ABC event (B25/4) on 7 July 2013, won by Dave Green (RAF CC) in 52:22
50 miles - 1:53:47 Oxford Uni CC event (H50/14a) on 15 June 1997, won by Harry Walker (1:43:19)
100 miles - 3:57:33 NCA event (B100/7) on 24 August 1997, won by Tony Barber (3:57:07)
12 hrs - 254 miles CC Breckland event (B12/2) on 15 September 1996, won by Tony Barber (265 miles)
Further Reading

The procedure of entering a cycling time trial in the UK is straightforward, but there are several things you need to know. This guide explains ...
26 Feb 2015
Mark Florence had the honour of interviewing top GB time triallist Matt Bottrill. Bottrill is 37, got into time trialling in 1998, started ...

On a warm, calm Sunday morning, the field of 60 riders made light work of two circuits of the A143 bypass between Harleston and Bungay. Paul ...

Despite a large field, calm conditions and strong riders, times were quite depressed for this morning time trial on the All in south Norfolk ...

A rising westerly wind made life very difficult for the competitors, and took a good three minutes off the faster riders' times. This didn ...

Weather conditions were close to ideal for the small field of around 40 starters, although there were lots of moans about the recent gritting ...

Calm and dry conditions prevailed for all 60 riders in this evening time trial on the A11, despite threats of rain. The last couple of miles ...

This tough event on a sporting course was set in bright sunshine and a light westerly breeze, so the only problems for the riders were fluids ...

Most entrants turned out for this early season tester, and there were a fair few spectators dotted along the route too. A light northerly ...
It was a sluggish evening for the riders, and even Jim Burgess (Anglia Velo) could only manage a 21:34 to win the event. Harley Matthews ...

The weather was superb for this early morning time trial up, down and up the All. There was a fair amount of traffic (especially motorbikes ...

Conditions were excellent for all 40-odd riders in this 15-mile championship, overcast and mild with a light westerly breeze that didn't slow ...
A brisk south-westerly breeze made the outward leg down the A11 a bit of a slog, and a lot of riders would probably have been spinning out ...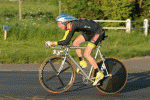 Using the same roads as the National 10 recently, this two-loop undulating course was ideal as a semi-sporting '25. The road surface was far ...

After a shocking week of rain, cold and high winds, the weather turned out nice for the big day! The sun was shining and the air temperature ...