Our Leap into Solar PV
After a lot of procrastinating and fretting over the initial costs, we decided to go for it and install solar electricity panels on the roof of our house. The prices of the solar panels had fallen considerably in the 18 months between quotes, and the 43p per unit feed-in tariff was still available, so we felt comfortable with the timescale for recovering our initial costs. If you want to see how we worked it out, check out our solar pv return on investment calculator!
We had already chosen Green Home Energy Solutions (Durrant Electrical Ltd) as the installers, being a local company and with a great reputation. What follows is a slide-show of their work, over the course of a day and a half, to give you an idea of what's involved.
System Specifications
Solar panels: 12 x Sanyo HIT-H250E01 photovoltaic module
Inverter: 1 x SMA SB3000
Share:

Facebook

Twitter

Copy link https://swinny.net/House_and_Home/Solar_Electicity/-4192-Our-Leap-into-Solar-PV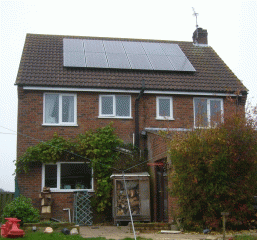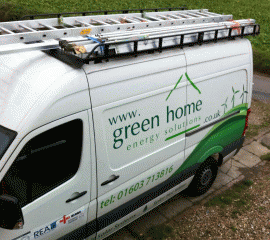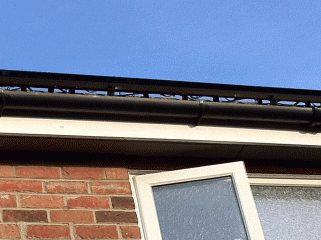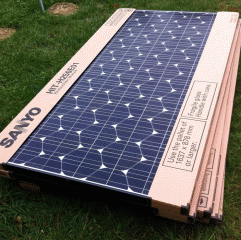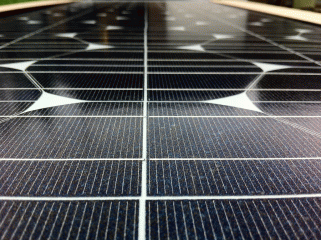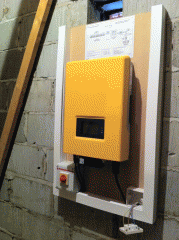 by
Steve Rogers
on 25 December 2011
Reply
We had our 4kW installation on 30 November and, after lots of messing about because of the MCS website failures, emailed our FIT application to Good Energy on 2 December. I got them to confirm receipt by phoning them and a later email. I haven't heard anything else from them yet so I hope it's just a big backlog. I have to say they were incredibly helpful over the 'phone. We are switching suppliers (from npower) at the same time.
We've generated 42 kWh during December so far. I can confirm your observation elsewhere that sunshine is needed - we've had 8 days with zero or near zero production. We're in N Yorks with a S facing roof.
Steve
by
John Sterling
on 06 March 2012
Reply
Hi Steve - I wondered how you have been getting on since your last post. I had 3.97K 15 panel Mitsubishi 255 array installed on the 9th Dec. I also face south but live in the "sunny" south in Aldenham, Herts. It will be interesting to compare. My readings are taken on the 9th of every month and are Dec = 95, Jan = 188 and up to today the 6th Mar = 211. I have no idea how this will stack up against estimated for the year as no idea how to break it down into monthly figures. Regards - John
by
Steve Rogers
on 06 March 2012
Reply
Hi John - Well, I've just discovered that our supplier has fitted the wrong inverter and I am hoping to hear today that they will change it. Our system consists of 2 strings of 9 Moser Baer 220W MAX panels, but these do not produce enough voltage under load to match the Eltek 3800S inverter's voltage working range. It's only been sort of working because it's been cold which boosts the panel's voltages.
Our monthly productions were 46 (Dec), 62 (Jan) and 73 (Feb). We've just reached 203 kWh total today which, if I read your numbers right, you have exceeded in February alone. You see our problem and I am not too pleased! These numbers are about 1/2 those we should have got.
If you want better comparisons I would sign up to the BDPV website and/or maybe the Sheffield University Microgeneration Database. I'm on both.
Regards - Steve
by
Steve Rogers
on 27 April 2012
Reply
Finally got our inverter changed two days ago. Now have a SunnyBoy 3600TL - new model for the UK market which restricts the output to 16A DC and avoid problems with DNO permission. Yesterday it was rain all day with about 2 nanoseconds of brightness and the new inverter still made 4.7kWh. We just had a brief sunny spell today and the power maxed out at 3.68kW so i am confident it is working well.
Regards - Steve
by
John Sterling
on 08 March 2012
Reply
Sorry you are having problems Steve. Be very careful how you go about sorting it out as I was informed that if I make any variations to the installation as it was presented for certification, I would lose the certificate and have to start again and that included the FIT contract date! I was considering changing my Mitsubishis for Sanyos and needless to say, I am not doing it! Anyway, I now have worked out all my figures and it looks, subject to receiving my first cheque in the sum I expect, that I am 72% ahead of estimates! Yes, I did say 72! I will keep you informed. John
by
Steve Rogers
on 13 March 2012
Reply
Thanks for that, John. I've just looked at the MCS Certificate and it does not mention the inverter type/brand. It seems to be only concerned with the panels and the declared total capacity.
by
John Sterling
on 13 March 2012
Reply
I have learnt something - thanks - it makes sense as I was looking at changing my panels so Freesource would not have bothered to make the distinction - good luck - John
by
John Swindells
on 08 March 2012
Reply
That sounds like very sensible advice, John.
It's great that your panels are doing so well despite sticking with the Mitsubishi's - let's hope they do this well over their lifetime.
by
John Swindells
on 25 December 2011
Reply
Good Energy really are good, aren't they? I'm sure that they'll get the FiT tariff sorted out for you.
Fingers crossed for more sun in Yorkshire!
by
Gordon Dobson
on 25 November 2011
Reply
I am hoping to have my system fitted before the end of November.
Can you (or anyone else)tell me how long after posting off the FIT forms did you get confirmation from your electricity supplier that everything was O.K.
Obviously I am hoping to get the higher FIT rate,hence this information is very important to me.
by
John Swindells
on 25 November 2011
Reply
Hi Gordon, I emailed the forms to my supplier (Good Energy) and they confirmed their arrival the same day. Make sure you get a confirmation, either by phoning them or getting a call or email from them!
by
Kathryn Zipfel
on 13 November 2011
Reply
Looks good, great to hear see it in it's entirety. Will you be doing a follow up post in a few months advising on costs and return on your investment to date? My mum would like to know how it goes and is impressed with the tidy look, and said that you have probably done it at the best time cost wise (insider B&Q info you know).
Kathryn
by
John Swindells
on 13 November 2011
Reply
Yes Kathryn, we'll publish lots of numbers on generation and earnings (provided the paperwork clears in time!) over the coming weeks and months.
Add your comment