20 Oct 2015
Garmin has a really neat ANT+ speed-sensing device, which fits to the hub and does away with the need for a spoke-mounted magnet. It can also ...

Glorious sunshine beat down once more in the fifth round of the Eastern Cross league. The course was in excellent condition throughout all ...

The sixty-odd riders were greeted with warm sunshine and just a mild breeze, and Scott Davidson (Team Velo Velocity) was fastest male rider ...

Calm and mild weather set the scene for a course record today, and it was indeed broken - by Justin Homeward (VC Revolution) in a time of 52 ...
22 Sep 2015
The Eddington Number is a strangely addictive score for cyclists, devised by British astrophysicist Arthur Eddington for ranking their achievements ...

The grassy, muddy course had been subject to a lot of rain earlier in the week, but warm conditions and a lot of preparation by the Amis Velo ...

It was a fast, dry day of racing for all competitors. The high pace in the vet50+/women's race caused bottleneck problems at the innovative ...

Essex Roads CC and the Eastern Cross League put on a great opening event of the season, with a firm but challenging grassy course and lots ...

Daniel Bloy (Team Velovelocity) posted a convincing win in the 30-mile time trial on the All dual carriageway, finishing almost two minute ...

Time Trialling 13 Aug 2015
For years I've been riding time trials with a standard pointy "Giro Advantage" aero helmet, and apart from the amplified road noise am quite ...

Daniel Bloy was in winning form on the rolling B25/33 course at Fincham, on a warm and reasonably calm afternoon. There was quite a lot of ...

03 Aug 2015
I run a single chainring on my time trial bike, and until recently haven't bothered with a front mech or any sort of chain guide. However ...

02 Aug 2015
I headed down to Buckinghamshire to compete in the Men's National 25-mile time trial, and made sure to squeeze in some hilly miles in the process ...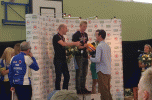 All 111 finishers enjoyed almost perfect weather conditions for the "Blue Riband" time trialling event of the UK, and Ryan Perry (Langdale ...

The weather was good and times were fast for the 70 riders of this 100-mile time trial. In overcast and calm conditions, the air temperature ...