Paul Groombridge and I comfortably won the 2-up competition in the Gt Yarmouth CC event on the sporting BS13a course between St Olaves, Somerleyton ...

07 May 2016
To make the most of favourable weather conditions I decided to spend the day away from the family and ride down to my Mum's - around 90 miles ...

What a great afternoon's racing! Bright sunshine, enthusiastic supporters and marshals, and top organising :) Fergus Muir has published a ...

This was a very fast and twitchy race that saw a few breaks make a few seconds gap before being reeled in, until mid-way through when Dougal ...

People struggled to get going on a chilly morning at the Norfolk/Suffolk border. It was sunny and there was only a gentle southerly cross ...

There was a high quality and quantity of riders at NNW's first evening club TT of 2016, on the Holt Road. The sun was setting as the last ...

Paul Groombridge and I managed a comfortable win (with a time of 54:54) in the 2-up event of the Diss & District CC 25-mile time trial ...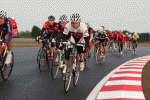 02 Apr 2016
The all-new Norfolk Cycle Racing website is now taking "intent to compete" entries for the 2016 edition of the Lotus League, run on the super ...
02 Apr 2016
The Eddington Number is a strangely addictive score for cyclists, devised by British astrophysicist Arthur Eddington for ranking their achievements ...

A strong southerly wind and bitter icy showers made things extremely unpleasant for the youth riders in the early races, but for the later ...

A brisk northerly cross-wind breeze didn't stop some excellent times being posted on a sunny and relatively mild morning. Feat of the day ...

Rolling stop/go roadworks on the Holt road put a stop to the 2016 edition of this extremely popular early season event. It looked for a short ...

Conditions were tough in this early season out-and-back event on the Watton Road between Hingham and Watton. A strong, chilly north-westerly ...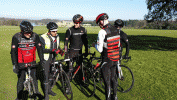 24 Feb 2016
A few of the Iceni Velo crew had a pleasant ride out in the chilly February sunshine, heading out from the cosy Kofra coffee house in Norwich ...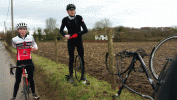 Lots of keen riders turned out for this 75-mile ride into North Norfolk, despite overnight rain and forecasts of more rain and high winds. ...