Daniel Bloy (Team Velovelocity) posted a convincing win in the 30-mile time trial on the All dual carriageway, finishing almost two minute ...

Time Trialling 13 Aug 2015
For years I've been riding time trials with a standard pointy "Giro Advantage" aero helmet, and apart from the amplified road noise am quite ...

Daniel Bloy was in winning form on the rolling B25/33 course at Fincham, on a warm and reasonably calm afternoon. There was quite a lot of ...

03 Aug 2015
I run a single chainring on my time trial bike, and until recently haven't bothered with a front mech or any sort of chain guide. However ...

02 Aug 2015
I headed down to Buckinghamshire to compete in the Men's National 25-mile time trial, and made sure to squeeze in some hilly miles in the process ...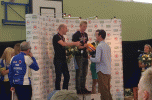 All 111 finishers enjoyed almost perfect weather conditions for the "Blue Riband" time trialling event of the UK, and Ryan Perry (Langdale ...

The weather was good and times were fast for the 70 riders of this 100-mile time trial. In overcast and calm conditions, the air temperature ...

Once again there was sunshine, warmth and torrential rain for the Norfolk Cross. This time the women and vet50+ riders got a drenching, as ...

The annual Gas Hill Gasp event returned once more to the steepest road in Norwich, after missing a year due to the Tour de France's start in ...

It was hot work on the A11, with temperatures around 25C and only a mild easterly breeze blowing. Mary Bower (Chelmer CC) put in a women's ...

Headed by John Pugh, Godric CC put on a fantastic event from the Broome village hall, with a generous buffet spread greeting riders after their ...

A moderate westerly crosswind did little to deter fast times, and Joe Skipper (Rock Estate) took a chunk off the course record with a time ...

A brisk north-easterly wind was blowing, making the going difficult for the longer return leg down the exposed A11 dual carriageway. ...

Cyclocross 09 Jun 2015
The fixture list for the 2015/16 Eastern Cyclo-Cross League is live, and it's going to be another busy season! Here are the highlights: ...

This event was quite exhilarating, on 80 miles of closed roads. We passed through many villages full of cheering residents, lots of exposed ...