A soggy bottom caused by recent heavy rain did little to slow the pace in all the races at Chelmsford's Springfield Hall Park on Sunday. There ...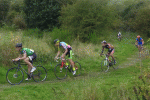 What a hot and dusty event! With no rain falling in weeks, occasional sunshine, temperatures nudging 20 degrees C and a strong breeze blowing ...

It was a warm day of racing on the Gloucester Park hill in Basildon, and most people had an enjoyable ride on the grassy climbs and descents ...

Despite a large field, calm conditions and strong riders, times were quite depressed for this morning time trial on the All in south Norfolk ...

A rising westerly wind made life very difficult for the competitors, and took a good three minutes off the faster riders' times. This didn ...

20 Jul 2014
There were over 100 competitors in the annual North Walsham triathlon event. The 25-metre pool at the Victory Leisure Centre was used for ...

Weather conditions were close to ideal for the small field of around 40 starters, although there were lots of moans about the recent gritting ...
10 Jun 2014
Most trains in the UK have some quantity of allowed bike storage, but there are restrictions which will vary from one TOC (Train Operating ...

Calm and dry conditions prevailed for all 60 riders in this evening time trial on the A11, despite threats of rain. The last couple of miles ...

This was an amazing event, organised by Activating CIC and involving lots of willing volunteers - notably Neil Turner and his young family ...

Organisers, helpers and riders were glad to have a sunny day's riding from the word go. In fact, dehydration was the biggest risk - but there ...

This tough event on a sporting course was set in bright sunshine and a light westerly breeze, so the only problems for the riders were fluids ...

This was an excellent course, on a mixture of bridleways, lanes and old railway lines. There was plenty of standing water, mud and debris ...

This was the fifth and final stage of the first ever Tour of Britain for women, and it was amazing to watch - especially on the QOM hill climb ...

Iceni Velo's 2014 road race went smoothly on Sunday, with a large competitive field of riders making the most of fabulous conditions. ...