The first of three cyclocross events at Trinity Park in Ipswich saw an exceptional amount of rain fallng from mid-morning onwards, turning ...

Massive respect to the marshals and spectators on a day that started benignly enough, but turned into a monsoon as soon as the women/vet-50 ...

A great first event by VC Revolution in Colchester, at the same Hilly Fields location but with a completely revamped course. Overnight rain ...

Barry Denny & co of West Suffolk Wheelers put on a great event for round 9 of the Eastern Cross League, with a great mix of tarmac, grass ...

Everyone enjoyed a really warm day of racing and spectating at the Mistley Cross event on Furze Hill. After last year's storm damage, the ...

Kids on Bikes 24 Oct 2014
Since we started taking Izzy and Dan (aged 9 and 11 at the time) to some cycling events, including sessions run by Tri-A-Sport, City of ...

On a warm, calm Sunday morning, the field of 60 riders made light work of two circuits of the A143 bypass between Harleston and Bungay. Paul ...

A soggy bottom caused by recent heavy rain did little to slow the pace in all the races at Chelmsford's Springfield Hall Park on Sunday. There ...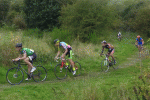 What a hot and dusty event! With no rain falling in weeks, occasional sunshine, temperatures nudging 20 degrees C and a strong breeze blowing ...

It was a warm day of racing on the Gloucester Park hill in Basildon, and most people had an enjoyable ride on the grassy climbs and descents ...

Despite a large field, calm conditions and strong riders, times were quite depressed for this morning time trial on the All in south Norfolk ...

A rising westerly wind made life very difficult for the competitors, and took a good three minutes off the faster riders' times. This didn ...

20 Jul 2014
There were over 100 competitors in the annual North Walsham triathlon event. The 25-metre pool at the Victory Leisure Centre was used for ...

Weather conditions were close to ideal for the small field of around 40 starters, although there were lots of moans about the recent gritting ...
10 Jun 2014
Most trains in the UK have some quantity of allowed bike storage, but there are restrictions which will vary from one TOC (Train Operating ...