Location: Fakenham, United Kingdom
A strong southerly wind and bitter icy showers made things extremely unpleasant for the youth riders in the early races, but for the later races the sun came out and there was just gusting wind to contend with. Full results on the Active Fakenham website.
Cat 4 race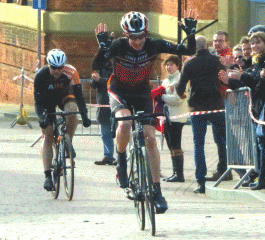 I had a bit of a rush start in my race. I was chatting to Ken in the HQ about the Lotus League (as I'm putting together the updated website for it) and thought my race was due to start at 15:45 - and then heard over the race radio that the race was starting! Fortunately I only missed the neutral lap, and was released into the bunch as they rolled past the start line. In the space of the first couple of laps Dazza (Darren Evans) had gone clear and a large bunch was chasing him. I had to spend a few laps chasing the bunch down, went to the front of it for a couple of laps, then pushed on and took the lead in a few more laps. I went to the front and kept gapping Dazza on the straights - only for him to reel me in on the technical section just before the finish line! In the end I gapped him enough (or so I thought) and eased up in the final lap. It was only in the finishing straight that I checked behind and saw him there, and had to put in a final push on the cobbles! By the way, there are a few nice comments over on Facebook - if you have access that is.
I had a couple of scary moments in the race. Very early on a rider went down right in front of me on a sweeping left bend; he ended up on the pavement but his bike bounced back into the road, forcing me to dodge around it. The rider was up again on the next lap, thankfully. Later on, just as I'd caught Dazza, I led him into a corner and went sideways over some fabric covering a road hazard. I managed to stay upright, but kept to the "real" road surfaces from then on.
The course was really well designed, the event well organised (thanks Richard Crook, Active Fakenham, East Coast Riders and many others), the crowds were great, and Barry did a top job on the PA!
Here's my ride on Strava, including the ride to and from the race:
Ride on 2016-03-27 11:54:26, at Norwich
Gear: Ridley Noah (Ridley Noah 1303am)
135km in 4:17:22
| | |
| --- | --- |
| Average speed | 31.4 kmh |
| Max speed | 56.2 kmh |
| Average heart rate | 150 bpm |
| Average power | 171 Watts |
| Calories | 725 |
| Elevation gain | 481 metres |
It's quiet in here...
Add your comment