World Cup Cycling LIVE on the BBC!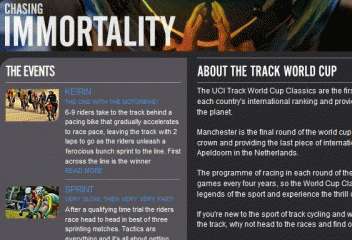 The BBC is televising the Track Cycling World Cup, to UK viewers, with a massive two-and-a-half hour slot on Sunday 20 February 2011 at 1:30PM.
When? Sunday 20 February 2011 from 1330 to 1700
Where? BBC1 - live from Manchester
This is the third and final day of the World Cup, and features the Team Sprint (men), Kierin (men, women), Team Pursuit (men) and women's Omnium. For a more information see the UCI World Cup Track Cycling Classics: Event Schedule.
Read more on the BBC Cycling Schedule.
It's quiet in here...
Add your comment