Don't even think of buying a used car until you've read this! We bought a car from a dealer who we thought we could trust, and learnt the following lessons the hard way.
Not all dealers are the same! Some may be hard-working and honest. Others will simply be after your cash, and do everything they can to shirk their responsibilities later on.
We have also written a detailed report on our troubles with Foundry Cars of North Walsham.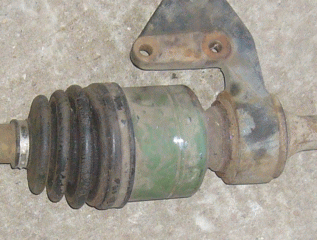 Look beyond the forecourt
Be very wary of a dealer without its own workshop. The dealer we bought from didn't know that our driveshaft (pictured right) was dangerously worn, although he didn't care either when made aware of it.
Is it very busy? Any sign of disgruntled customers?
Is the salesman approachable and keen to provide technical details?
Dealer 'pedigree' means very little
The dealer we had all our trouble with, Foundry Cars of North Walsham, makes the claim to be "Established for 40 years" - for what it's worth.
Be equally cautious about dealers that have just opened up; they may not stay running for long!
Know your rights
The most important statutory protection you have is the Sale of Goods Act. Essentially, if there is a pre-existing fault with the car, the dealer is liable for the bill. You have a lot of protection here!
The MoT certificate is a pretty much worthless document. The car must have it, but don't use it as a barometer of a car's road-worthiness.
Check paperwork carefully
Watch for an 'Advisory' notice on the MoT certificate; a separate sheet of issues should provide the details. Foundry Cars managed to 'lose' the advisory note listing brake pipe corrosion.
Examine the service record carefully for signs of irregularity and gaps. When did the car last have a full service?
Note down the vehicle identification number (VIN) from its bodywork, and check this later on the DVLA website. You don't want a ringer or a cut'n'shut!
Get a third-party inspection
Don't just wander round the car, or just 'assume' that the car is mechanically sound. Pay for a professional inspection; you may even get this free of charge on your breakdown policy.
Don't settle if you feel aggrieved
We made the mistake of agreeing to part settlement of costs for replacing a dangerously worn driveshaft. This compromised our subsequent legal action to recover all of our costs under the Sale of Goods Act. Don't rely on the dealer to do the honest thing!
It may cause short-term pain, but you do have the right to hand the car back - with entitlement to full refund - if you uncover a pre-existing fault. This is NOT at the discretion of the dealer!
If you are unsure what to do, contact Trading Standards or the Citizens Advice Bureau. They will help to point you in the right direction, and give you affirmation of your rights.
What Next?
If you have had a similar experience, or found the car dealer to be very co-operative when problems surfaced, please let us know by adding your comment at the bottom of the page.
Have you had any run-ins with Foundry Cars (North Walsham)? Please comment below or contact us directly.
Please fill in the short survey at the top right of the page.
Please do read our detailed report on our troubles with Foundry Cars of North Walsham to get a better idea of the frustration and stress we were put through.
by
sharon roberts
on 12 March 2014
Reply
I had the same problem, bought a car, paid cash, 8 weeks later spent £900 having to have all the brakes replaced, including bearings, he didn't care one bit, told me I should have had it serviced before I went away. Check your MoT: it will tell you if there is an advisory noticed; mine had one but I was never given it, would never have bought a car with faulty brakes. I even had a problem with the ignition, it would suddenly
go bang and grind to a halt, told me that cars do that, don't touch his cars, I paid £2500 and in less than a year had spent that much again putting it right.
Add your comment