For the last few years I've been the happy owner of a Garmin Edge Touring Plus cycling computer. It's been completely reliable and the battery still lasts well, but it has been lacking in a couple of areas - namely, power meter support and wireless uploads. And lately, I've discovered that it can't run Connect IQ apps; more on that later.
The Edge 820 is an obvious choice to fill the gaps on my must-have feature list. It is physically smaller than the Edge Touring, but its higher resolution screen means that map-reading is unaffected. If you need a bigger screen then the older Edge 1000 is an option, but with these older models you run a higher risk of not being given future software features from Garmin. If you want a modern model with a big screen, then the pricey Edge 1030 is for you.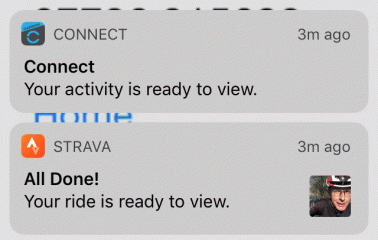 Having used the Edge 820 for a few weeks, I can't stress enough how nice it is for rides to be uploaded wirelessly and automatically as soon as I get home. Using a bluetooth dongle for my Forerunner 310xt or a USB cable for my Edge Touring is so tedious by comparison! One thing I've noticed, however, is that activity uploads can be delayed when the device needs to perform a software update. You should use the Garmin Connect app on your smartphone, and if you don't get a notification within a minute of saving your activity then you should open the Connect app and check what it's doing with the device. Most likely you'll see a progress indicator at the top of the screen, showing that things are happening. It can take several minutes or more, so be patient!
When the Edge 820 was first released, reports came in of issues using its touchscreen. Bike computer touchscreens aren't ever going to be as good as those on smartphones as they need to work in the wet, but the 820 definitely performed noticeably badly. Firmware updates were released, and the situation apparently improved, but I obviously had this fundamental issue in the back of my mind when I went ahead and bought one. Well, now that I've been using it for a while I can confim that whilst out and about there is no problem. The only time the screen appears unresponsive is when it's doing something in the background: when I'm at home, it quite regularly downloads things (map and firmware updates presumably, but I'm not sure), and it goes unresponsive for a few seconds before a message appears in the top bar that a download is complete. For me this isn't a problem, as it performs fine when it matters.
Connect IQ
I am monitoring a performance metric that isn't available as one of the standard Garmin data fields, so I've written a simple Connect IQ app that makes the metric available to me in real time, as a simple number on the Edge 820 screen. I've called the metric "stroke energy", as it is the amount of energy output during a single pedal stroke. It's easy to calculate from power and cadence, but I want to see the metric in real time so that I can keep it within an acceptable range.
Other nice improvements
Whilst using the Edge 820, I've noticed several more improvements over the Edge Touring. Most significantly, a short push on the power button puts the device into standby (if it's not recording a ride), making it extremely convenient to pause a ride and pop the computer into my pocket when I leave the bike. On the Edge Touring I have to turn the device off (using a long push on its power button), and it can take up to a minute to turn back on. Also, a short press on the Touring's power button just brought up the backlight options - a redundant feature on the 820, which has automatic backlight control.
On the subject of back-lighting, the Edge 820 is much nicer to use at night-time. The backlight is always on, but not bright, and I can always see my numbers in the dark. The Edge Touring does have night mode, which it switches to automatically, but the screen isn't readable unless you swipe the screen to wake up the backlight.
The Edge 820 features live segments, something I definitely wasn't looking for but which could occasionally be fun/useful! I'm not a Strava segment hunter, but it has been fun to monitor my live progress whilst attacking the odd climb. Having said that, the display switches away from my data screen when on a segment, so I can't see the important stats like power when they could be really useful.
Different ride modes are now a thing, so I can configure my training displays to give me performance data, whilst only displaying more basic "environmental" data when on a leisure ride.
A few issues
Collision detection wasn't on my wish-list, but it seemed like a sensible thing to turn on. The feature means that a gyroscope in the device will detect when you've crashed, and send an SMS alert to one or more designated emergency contacts. In my experience, however, it has generated a lot of false positives, and these happen when I drop the front wheel to the ground when starting off. In other words, I've been stood at a junction, and in the process of getting moving have let the front wheel bump on the road, and that sets off the collision detection. I then need to stop and cancel it before it sends off the emergency text message! In fairness this happened a lot during my first couple of weeks use, and it hasn't happened at all recently, so I've left it enabled for now.
The Edge 820 has an annoying habit of sometimes losing communications with external sensors (eg, power meter, heart rate monitor) after coming out of standby mid-ride. I'll typically pause my ride and put the unit into standby when stopping at a cafe for example, and later on press the power button again to turn it on. I'l get going and then notice that the unit is missing my sensor data. Fortunately there's a workaround: power the unit off and on again. It doesn't end the ride, so no harm done, but it is quite annoying.
Turn-by-turn navigation doesn't alwaya point you in the right direction! This might be a problem with all Edge computers, but I don't recall seeing it on my old Edge Touring unit. The issue is when I'm approaching a roundabout or a crossroads with a slight offset in it. If I'm going straight on or right at the roundabout, the unit tells me to turn left. If I'm approaching a crossroads where I need to turn right and immediately left (effectively going straight on, crossing a major road), it tells me to turn right. Therefore I need to hop into the map screen if I see a junction appearing. I actually need to do this for all junctions, as the unit doesn't tell me which way to go if it wrongly thinks I'm staying on the same road!
Battery life can be an issue. The two major features that drain the battery are the phone connection and the backlight. Before a long ride (eg, more than 6 hours) I will turn off the phone link, and if I'm starting to hit danger levels in battery life (less than 10% remaining) I'll turn off the auto backlight mode and set the brightness down to 0. The auto-mode backlight will really hit the battery hard in low light conditions, so this is definitely something to watch out for.
Share:

Facebook

Twitter

Copy link https://swinny.net/Cycling/Under_Test/-5002-Upgrading-to-a-Garmin-Edge-820-bike-computer
It's quiet in here...
Add your comment