Shops in Norwich that might be able to help with supplies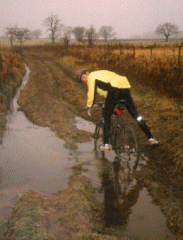 The absolute priority with any quality ride is knowing where the tea-rooms are. So, we've compiled a map of the best-uns!
Specialised Cycles 80 Connaught Road, NORWICH; Tel: 01603 665668
This is a small but well-established and well-stocked shop that is within a stone's throw of the Golden Triangle.
If you're looking for a new tyre or the latest cycle computer, this is the place to go.
The Runners Centre 145 Nelson Street, NORWICH; Tel: 01603 665398
As its name implies, this is the place primarily for the runner. However, the fitness products are equally applicable to cycling: notably, the heart rate monitors and carbohydrate powder.
Clubs in Norfolk
Andrew Mills mentioned below that the Norfolk District Association of the CTC (Cyclists Touring Club) has a website, but got the link wrong. Here it is: http://www.norfolkda2.freeserve.co.uk/. It is essentially based in Norwich, but has West Norfolk and South Norfolk (Diss) sections too. There doesn't seem to be anything established in North or East Norfolk.

Share:

Facebook

Twitter

Copy link https://swinny.net/Cycling/Norfolk/-128-Shops-in-Norwich-that-might-be-able-to-help-with-supplies
by
Andrew Mills
on 14 March 2005
Reply
Anyone who wants information on cycling in Norfolk could do worse than contacting Norfolk CTC @ www.norfolkda.2.freeserve.co.uk The local branch of The "Cyclist's Touring Club". We Have Cycle Rides and Events across the County.
by
Marius
on 01 February 2005
Reply
Hi
I stay in Great Yarmouth and I am looking for a road cycle group to join for rides ? Any ideas
Marius
by
Julii
on 01 February 2005
Reply
I know of a couple, both with a mix of abilities:
Great Yarmouth CC - tel 01493 728815
VC Baracchi - tel 01502 519599
The latter is a Lowestoft group, and both are into road-racing and time trialling. I'm sure they do plenty of recreational rides too.
Add your comment