Location: NR16 2NZ, United Kingdom
Soft, leafy mud was the order of the day for Push Sport's event, the Eccles Cross. There were some grass stretches and some slippery concrete to contend with, but the mud, logs and roots of the wooded sections were instrumental in deciding riders' fates. There's a full report by Fergus Muir on the British Cycling website.
Under 10s race
My youngest son Michael (7) had his first go at a cyclo-cross race, and had a really good time charging about on a quite challenging course in the woods. If he hadn't gone off course (managing to find a small gap in the course tape!) he might have finished in the top 10! Mia Rutterford was another Iceni Velo rider in the under-10s, finishing top girl. Full results on the Eastern Cross website.
Vet 40-49
Shaun Aldous (Renvale RT) had yet another convincing win, and sealed top spot in the 2015/16 Eastern League. Very well done, Shaun! He beat other fast riders Roger Maidment (East London Velo)) and Greg Simcock (Corley Cycles - Drops RT), plus Wayne Crombie (East London Velo). Full results on the Eastern Cross website.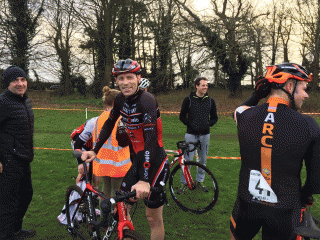 My race went ok whilst I was going in a straight line; unfortunately that wasn't very often. I'd elected to ride Griffo tyres, at 30 PSI, and the course had got quite mucky since I'd previously gone around it. Consequently I had poor traction and cornering, and a second place off the start rapidly disappeared into 10th overall. I had a great battle in the last half lap with Simon Hance of Ipswich BC; he had been slowly catching me for a couple of laps, and after I slipped up a couple of times in the woods he sailed past me. I clung onto his wheel though, and managed to out-sprint him when we hit the grass finishing "curve". You can see my heart rate lifting at the end, on my Strava activity:
Ride on 2015-12-20 13:27:19, at with 17 others
Gear: Specialized Crux Elite
14km in 0:41:23
| | |
| --- | --- |
| Average speed | 19.6 kmh |
| Max speed | 38.9 kmh |
| Average heart rate | 168 bpm |
| Average power | 133 Watts |
| Calories | 91 |
| Elevation gain | 96 metres |
It's quiet in here...
Add your comment