CC Breckland 50-mile time trial
Location: Morley, South Norfolk District, United Kingdom
A brisk SW wind was about as good as could be hoped for in this mid-morning time trial on the A11, as the wind was blowing pretty much straight up the dual carriageway, with hardly a whiff of cross-wind. Daniel Bloy (Team Velovelocity) and Lucy Gossage (Cambridge Tri Club) were fastest man and woman out on the road, and Gossage even did some training runs before and after her time trial!
Results: Men

1
Daniel Bloy
Team Velo Velocity.co.uk
01:42:41
2
Charlie Nurse
North Norfolk Wheelers
01:44:19
3
Rob Young
Team Vision Racing
01:46:18
4
Mark Richards
VC Baracchi
01:47:12
5
Keith Ainsworth
Sheffrec CC
01:48:29
7
Paul Vickers
West Suffolk Wheelers & Tri
01:50:01
8
John Swindells
Iceni Velo
01:50:27

Results: Women

1
Lucy Gossage
Cambridge Tri Club
01:55:09
2
Anna Dearing
Colchester Rovers CC
01:58:43
10
Giovanna Bertoldi
Iceni Velo
02:36:53

Results: Juniors

1
Ollie Jones
Ipswich BC
01:48:33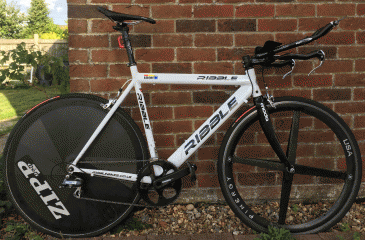 This event was an all-time PB for me, and I managed to knock around 3 minutes off the time set twenty years ago! Here's the bike - a basic Ribble TT frame, running on ancient (but serviced) Zipp 950 rear wheel and Spinergy front. Vittoria Corsa CX 25mm tubs used on both wheels, and at 100psi they give a really comfy ride. The saddle is a Specialized Phenom, and the front section is newly-updated with Deda Fastblack2 clip-on bars on a 3T Vola Pro basebar. I'm trying out the slightly-elevated arm position, and may run it a bit flatter in future as it feels like my arms are slipping down a bit.
Ride on 2016-09-25 09:05:58, at
Gear: Ribble TT bike
81km in 1:50:32
| | |
| --- | --- |
| Average speed | 43.7 kmh |
| Max speed | 56.2 kmh |
| Average heart rate | 167 bpm |
| Average power | 275 Watts |
| Calories | 502 |
| Elevation gain | 203 metres |
Share:

Facebook

Twitter

Copy link https://swinny.net/Cycling/Time_Trialling/-4862-CC-Breckland-50-mile-time-trial
It's quiet in here...
Add your comment