25-mile time trial: Norwich ABC
The weather was superb for this early morning time trial up, down and up the All. There was a fair amount of traffic (especially motorbikes, heading to Snetterton) but everyone seemed to be driving calmly and patiently. There were only a few non-starters, not surprisingly, so over 70 competitors took part. Despite struggling on some of the ascents (okay, 3% gradients feel steep on a TT bike!) and being a bit cautious on the four junctions at the turns, I was really please to post an all-time PB of 54:39 - an average of 27.4MPH.
Results: Men

1
Dave Green
RAF CC
00:52:22
2
Charlie Nurse
North Norfolk Wheelers
00:53:23
3
Aidan Bond
North Norfolk Wheelers
00:53:38
4
Gavin Moore
Pro Cycle Hire UK RT
00:53:46
5
Geoff Frost
Team Velo Velocity.co.uk
00:53:49
6
James Trenchard
Godric CC
00:54:05
7
Richard Eve
Wisbech Wheelers
00:54:10
8
Steven Neill
Kings Lynn CC
00:54:14
9
Neil Dowie
Shorter Rochford RT
00:54:33
10
John Swindells
Great Yarmouth CC
00:54:39
11
Ken Roesner
Wisbech Wheelers
00:54:44

Results: Women

1
Tricia Goulden
West Suffolk Wheelers & Tri
00:58:32
2
Ann Shuttleworth
Chelmer CC
00:59:28
3
Jayne Williams
Stowmarket & District CC
01:01:34

Results: Juniors

1
Ryan Pell
Norwich ABC
00:58:45
Here is a short video I shot whilst driving down to the HQ for my late start. It features Peter Johnson (Norwich ABC); Trevor Roberts (Wolsey RC); John Parkes (Stowmarket & District CC); Derek Lusher (Norwich ABC); Andy Blower (Cambridge CC); Fergus Muir (Tricycle Assoc East):
Here is my ride, as captured on Strava. Note that neither HRM or cadence sensor were recording correctly - probably interfering with each other!
Ride on 2013-07-07 07:07:02, at Morley St. Peter
Gear:
I removed the speed sensor from the rear wheel, but HRM and cadence are still messed up.
40km in 0:54:45
| | |
| --- | --- |
| Average speed | 44.0 kmh |
| Max speed | 54.4 kmh |
| Average heart rate | 149 bpm |
| Average power | 360 Watts |
| Calories | 315 |
| Elevation gain | 223 metres |
Share:

Facebook

Twitter

Copy link https://swinny.net/Cycling/Time_Trialling/-4429-25-mile-time-trial-Norwich-ABC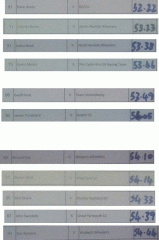 It's quiet in here...
Add your comment