V.C. Baracchi '10(Course B10/44)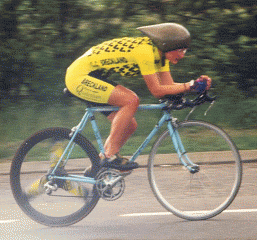 Date: Monday 05 May, 1997
Men: Martin Pyne (Leo RC)
21:21
Women: Catherine Essex (Kings Lynn CC)
23:57

 ...UEA RESULTS...  
--------------------------------------------------------
Name                          Time      Position (with ranking)
--------------------------------------------------------
Andy Tyler                    22:00     4
John Swindells                23:12     9
Jo Tuck                                 26:19(2L)
--------------------------------------------------------

As usual the Bungay road provided a nagging breeze, this time reasonably direct. Having buried themselves into a stiff headwind on the way out, riders were comforted by a flying return leg.
Jo Tuck was pleased to beat local rival Becky Durant by over a minute, and Andy Tyler's 22-minute time confirms his rising form.
It's quiet in here...
Add your comment