50 Miles (C.C. Breckland) B50/11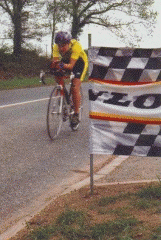 GOLD
Nic Hutchings (Bath)
1.52:00
SILVER Michael Hutchinson (Cambridge) 1.54:34
BRONZE Tony Hornbuckle (Cambridge) 1.59:20
LADIES GOLD Brenda Allen (Oxford) 2.14:43
TEAMCambridge Univ. (Hutchinson, Hornbuckle, English) 5.53:55

Dave Cooper		2.09:16		(10)
John Swindells		2.12:11		(11)
Jo Tuck			2.38:58		(17)
Andy Tyler		DNF

Mixed feelings on this one - Dave put in an impressive novice time on an undulating course and Jo improved by almost 10 minutes; John on the other hand had a lousy time, suffering at the hands of the strong return headwind, and Andy punctured at the turn (aren't tubs expensive...).
So it looks like a bright future for Jo and Dave, and a bit of a rethink for John and Andy.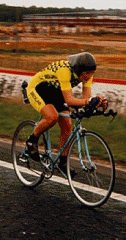 It's quiet in here...
Add your comment