iPhone Waterproof Case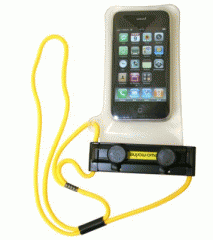 CamerasUnderwater.co.uk has a great waterproof pouch for the iPhone or iPod Touch. Designed to keep the phone safe and dry - but still fully usable - even in the wettest conditions, the EWA-Marine pouch is a fancy plastic bag with a lanyard. This would allow you to keep your iPhone out in the open even when it's chucking it down.
The manufacturer claims an audio loss of only 5% when making calls with the phone still inside the pouch. This is just as well, as it is apparently quite fiddly to take the phone out.
Note: Apple device not included!
Manufacturer's page: iWP for Apple iPhone and Apple iPod Touch
Find the pouch at CamerasUnderwater.co.uk: All-weather protection for Outdoor, Sports, and Marine Activities.
It's quiet in here...
Add your comment