Wedding of Edith Sherwood to George Swindells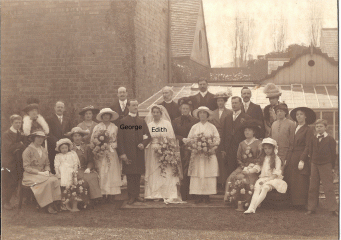 1915 wedding of Edith to George. People labeled on the back include Billy Bishton, Uncle Fred and Auntie Gertie, Uncle Charlie and Auntie Ethel. "Anne", Uncle Will, Edie Onions, Uncle Ben and Auntie Annie, Cyril. But I don't know who is who! Can anyone help?
by
Julii Swindells
on 15 April 2015
Reply
thanks so much for your help, Anne.
by
Anne Stone
on 12 April 2015
Reply
The man and woman to the immediate left of George are Charles Sherwood and Ethel (nee Varney), my grandparents. Charles was younger brother to Edie.
Add your comment