PICTURE RIGHT: (Left) Blanche Alice (Renfrow) McKay and (middle) her daughter Merwyn (McKay) Bergquist, taken ~1980
From what I can make out, the Renfrow and Mahurin families both settled (briefly) into poor rural Kentucky in the late 1700s. I am not repeating most of the material prior to 1850 because it's covered so well elsewhere. The
Mahurin families of Grayson County KY (note the red spot)
are well (reliably, I think) documented, said to ultimately descend from
Hugh Mahurin and Mary Campbell, late 17th century immigrants to Massachusetts from Northern Ireland
. Grayson KY is adjacent to Hardin Co. KY, where both Abraham Lincoln (12 Feb 1809) and Silas Mahurin were born (31 Dec 1805). The Mahurins moved en masse with relatives like the Renfros from
Grayson KY
to
Linn MO
for a decade or so, having stopped for a few years in Illinois on the way. It seems Joseph Renfrow met and married Laura Alice Crawford in Illinois.
Several lineages have been suggested for the ancestry of Silas Renfrow. It is a Scottish name, and most of the wives surnames (who married into the Renfro clan) were British or German. We know that Silas Renfro's mother's father was
Killian Creek/Grieg, (1750-1845) a German immigrant to PA
, and that his mother's mother was Margaret Weitzel (1755-1830), probably only two generations removed from German immigrants herself. I can't tell that any Renfrow lineage is that credible; quite a few researchers trace our Silas back to
Symon Renfrow
, the son of an un-named French woman and the
Earl of Moray
who was himself an illegitimate son of James the Fifth (the last independent King of Scotland, and therefore a descendent of Henry the VII. Entertaining to think we have such a Royal link in our past, but beware that it could all be make-believe!
One mill that Killian Creek built (photo taken circa 1950):
.
There's heaps online about Silas Renfro who married Nancy J Mahurin/McHuron.
Nancy J. Mahurin 3 May 1832 Grayson KY – 1864 Laclede Linn MO.
Silas Renfro
25 Jan 1828 KY - 1 Dec 1889 ID m. 23 Dec. 1843 KY to Nancy Jane Mahurin 3 May 1832 - 1864 Laclede Linn Co. MO
Joseph Renfro b. Linn Co. MO 7 Dec 1858 MO - 24 Sep 1943 Turtle Lake ND, m. 1881 IL or IA to Laura Alice Crawford 1860  IL - 1914 MN
Laura's parents: John Crawford & Priscilla Newbury (
see their writeup
)
RENFROW & MAHURIN Timeline
1805 Dec 31
Silas Mahurin born Hardin Co. KY. His parents born in VA.
1848 Dec 23
: Silas Renfrow marries Nancy Mahurin
1850 Census Grayson county, Grayson, Kentucky
Silas Renfrow 21 born KY, farmer
Nancy Renfrow 18 born KY
next door:
Silas Mahurin 44 Farmer, wife = Lany 41
Nancy J. 18, William M. 15, Stephen 12, Isaac 11, Lucy E. 10, Martin 6, Phebe E. 4. Mary Edwards 72 born VA (Lany's ma).  All family born KY
several more doors away
Stephen Mahurin 34 Farmer (Silas' little brother),
wife = Rachel, picture of Rachel Dewees Mahurin, taken around 1916 (no, she's not on our line, but isn't that a great picture?! How could I not include it? And anyway, she shows how people dressed and looked from them there days):
children = Joel H. 7, Matthew B. 6, Sarah E. 5, Abigail 4, John T. 2, Isaac 1. All family born in KY
Looks like Silas Mahurin moved to Linn MO. with his son-in-law's family; there are masses of KY born Mahurins in Linn MO in the 1860 Census, all living close together, including these people:
1860 Census Linn MO Family No. 601
Isaac Mahurin 22 born KY
Mancy E. 14 b. MO
I think should be Mary Jane
recorded babies born to them in 18 Oct 1884 & 10 Nov 1886
1858 Dec 7 Illinois
Joseph Renfrow born to Silas and Nancy J. (Mahurin) Renfrow
1860 Census Linn MO Family No. 600
, all born KY
Silas Mahurin 52 born KY
Lania Manhurin, 50 born KY
Lucy E. 18, Martin 18, Pheba 16, Marion 8
1860 Census Linn MO Family No. 598
all KY born unless noted otherwise
W H Mahurin 44
Ann 39
Martha J. 19, Edward D. 18, Stephen K. Mahurin 15,Sarah T. 13, Julia Ann 10, Joseph 8, Artemisia 6, Frederick 4
1860 Census Linn MO Family No. 734
William Mahurin 25, b. KY
Ann Mahurin 26 b. IN
George Y. 4 b. IL, Amelia J. 2yo born IL
Summary of children of Silas Mahurin & Delaney Edwards:
* Nancy Jane 3 May 1832 Grayson KY
* Mary Anne 25 Jan 1834 Grayson KY - died within a year of birth.
* William 25 Apr 1835 Grayson KY – 25 Mar 1896, m. Ann Julia Whitten Clayton IL
* Stephen 29 Aug 1836 Grayson KY – m. 8 Sep 1878 Mary Ann Hogan - d. 30 Apr 1897 Laclede MO
* Isaac 16 Jun 1838 Grayson – m. 1860 Nancy Palmer & 1878 Mary Jane Couch - d. 7 Apr 1901 Linn MO
* Lucy Elizabeth 6 Sep 1839 Grayson KY m. George Stephens, they lived in Shelby MO – d. after 1868.
* Jeremiah 10 Aug 1841 Grayson KY – died within a year of birth.
* Martin 4 Jun 1843 Grayson – m. 12 Aug 1864 Sophia Palmer, mostly lived in MO – d. 4 Jan 1937 Nebraska
* Phebe Ellen 1845 Grayson KY – m. William Eldridge – d. after 1872.
* Francis Marion 11 Aug 1850 Grayson KY – m. Mary Bigger,Stayed in Grayson KY – d. after 1885.
Various sources have Silas Mahurin, b. 31 Dec 1805 (father of Nancy Jane), buried at Locust Creek Cem. Laclede MO, died about 1885. Delaney died in 1869-1878.
1860 Census Linn MO, Township 57 Range 20, Family No. 599 (inbetween WH Manhurin & Silas Mahurin her dad)
Silas Renfro 30, born KY
Nancy Renfro 28, born KY
Susanah Renfro 5yo, born IL
Joseph Renfro 2yo, born IL //but I have born 7 Dec 1858 Linn Co. MO, IL tallies with later Censuses, IL tallies with birthplaces of William Mahurin's children, too//
1860-1870
: Silas Renfro marries Sarah Thomas Mahurin. So Nancy died in MO?
1870 Census 29 Jun, McDonald Tship, Jasper Co., MO
Silas Renfro 42 born KY, farmer
wife = Sarah F. 24 born KY, keeping house
Susanah 14 born IL, at school (as are others), Joseph 11 born MO, Amanda 7 born MO, Edward 5 born IL, Rhoda 2 born IL
1880 Census Long Tom Lane, Oregon
Silas Renfro 51 born KY, farmer, parents born GA, Farmer
wife = Sarah F. 31 born KY, parents born KY, keeping house
Edward 10 born IL, Rhoda 9 born MO, John H. 7 born MO, James B. 6 born MO, Clarkson 4, born Iowa, Myrtle 2, born Iowa
1880, 1900 Census, cannot find Joseph, but there are some single men called Joseph Renfrow of right age in right areas in 1880 eg:
1880 Census Knoxville Marion IL
Joseph Renfrow 20yo born in IL father born in IL & mother born in MO (if those are wrong?), farmhand in the Hammond household
5 Jan 1881 Knoxville Iowa Marriage by Justice of the Peace James Welch
of Laura Alice Crawford and Joseph Renfrow (details from my dad's research). Some sources say Knoxville IL, but the best records (including Marr. License) all say Iowa, which makes more sense (where they mostly lived before and after).
1884
Silas Renfro died in Oregon, say my notes; another source said 1 Dec. 1889 in Idaho
1884
Louis Renfrow christened, born Shelby Grove Iowa 18 Jan 1884 (child of Joseph & Laura)
1885 Census, Grove Shelby Iowa
Joseph Renfrow 26
Laurie Renfrow 24
Percilla Crawford 64
Minnie Renfrow 3, Lewis Renfrow 1
1888
Earling, Shelby, Iowa, Christening for Ernest E. Renfrow, son of Joseph Renfrow and Laura Alice Crofford [sic]
1899
Edna Renfrow christened in Union Shelby Iowa, born 23 Apr 1899
1900 Census I cannot find them, is a frigging myster!  They should have been in Iowa.
1901/02
Renfrows emigrate to ND from a "poor agricultural section of Iowa" (my dad's report).
1902 May 7
Blanche Alice Renfrow born Turtle Lake, ND. Died 1989 in La Verne CA.
Blanche was the youngest of 9 children:
Minnie 1 Oct 1881 Clay Marion IA, Lewis 18 Jan 1884 Grove Twp Shelby IA, Willis A. 16 Dec 1885 Shelby IA, Ernest E. 19 Jan 1888, Harry 4 Mar 1890 Shelby IA, Ethel 11 Jun 1893 Shelby IA-22 Jul 1904, Walter 21 Dec 1896 Grove Twp Shelby IA, Edna 23 Apr 1899 Shelby, Blanche 7 May 1902 Mclean Co. ND
RENFROW FAMILY PORTRAIT: taken in about October 1903, I believe.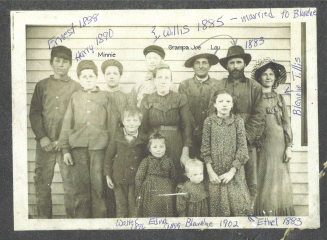 1910 Census Township 147, McLean, North Dakota
Joseph Renfrow 52, born in IL, father born USA, mother born OH
Laura Renfrow 50, born in IL, mother born IL father born OH //Laura Alice b. 4 Oct 1860 Menard Co.. IL//
Harry 20 born Iowa (has both parents down as born in IL), Wallis 13 born Iowa, Edna 11 born Iowa
Blanch 8 born ND
1910 Census McLean ND
Ernest E. Renfrow living on his own, born in Iowa, parents both born in IL
1914 Sep 4 Turtle Lake ND
Laura Alice (Crawford) Renfrow dies (
her obituary
)
1920 Census McLean ND
Joseph  Renfrow 61, born Missouri, widowed, living with
Ernest E. Renfrow 32
Edna O. 19, Blanche A. 17, "Nellie", not a child?? age unknown!
1920 Census McLean ND
Willis A. Renfrow 34, born Iowa
Blanche G. Renfow (wife) 28 b. Iowa
Varnace L. (boy) 10, Cora E. 9, Arthur 7, Alice G. 5, Robert S. 4, Leverne F. 2
1920 Census McLean ND
Louis E. Renfrow 36, born Iowa
Mabel L. Renfrow 31, born Kansas
Children all born in ND: Margret L. 12, Marvin J. 10, Ethel A. 8, Mary D. 5, Esther A. 2
1920 Census Burleigh ND
Harry G. Renfraw 30, b. Iowa
Leona Renfraw 27, b. Iowa
Howard K. 3y 11m, Kenneth C. 2y 7m, Lucile M. 10m
1920 Census McLean ND
A Walter Renfrow, age 23 born in Iowa, living in a housefull of Hansons. Walter is one of Blanche's brothers, I have been in touch with one of his descendants.
1921
Blanche A. Renfrow married Charles Lawrence McKay on 8 Oct 1921 at Van Hook Co., ND.
Read more about "Mac"
. He died (I think) 13 Jun 1949, from a heart attack (heavy smoker). She remarried Jess Black (neighbour across the street) in about 1956; he died in about 1976 although I have no memories of him, and Jess is described by the family has the great love of her life. Blanche died in 1989.
Blanche's brother Ernie (Ernest) migrated to California, too. He worked as a postman for many years in Pasadena, before retirement and moving up to Big Bear (in the Mountains). My father remembers that Ernie married many times, had no children of his own, and (I think Dad said) worked as a volunteer firefighter in Big Bear. My father and twin spent a summer holiday with Ernie one year, up in Big Bear, probably in the 1950s. My dad recalls that Ernie died at the age of 90, having fallen after climbing up on his roof (in Big Bear) to clear some snow.
1930 May 17: Montana marriages, Glendale Dawson
Margret Renfrow (born Turtle Lake ND, father = Louis Renfrow mother = Mabel Kounts). Married to Silas Bailiff. Did Renfrows all move to Montana, Margret gives a Montana place as residence.
1943 Sept 24
Death of Joseph Renfro
(his obituary)
Turtle Lake, McLean ND,
this is his gravestone
Some marriages:
Minnie to Remos Anderson 26 Oct 1901
Louis to Mabel Kountus 27 Nov 1906
Willis to Blanche Tillet 16 ? 1908
Harry to Lenoa Kounts 7 April 1915
Ernest E. to Grace Babcock 30 May 1920
Walter to Janet Norquist 1 Nov 1921
Edna to Arthur Linehan 21 Nov 1923
Some other deaths in the family:
Ethel A: 22 July 1904
Louis E. 28 Dec 1962
Henry 2 April 1970
Willis A?. 10 Feb 1972
PICTURE AT BOTTOM:
Joseph Renfrow (1858-1943)
with his granddaughters Merwyn (left) and Eileen McKay in Pasadena CA, taken about 1930.
Share:

Facebook

Twitter

Copy link https://swinny.net/Brainard/-4043-My-branch-of-Renfrow-Mahurin-and-allied-Families
Add your comment