Sherwood and children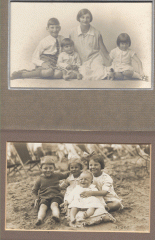 Top image was a Christmas card of Sherwood cousins as described, but bottom portrait was a postcard of 4 children of Edith (Sherwood) Swindells.
Share:

Facebook

Twitter

Copy link https://swinny.net/Family_History/Swindells-Photos/-3895-Sherwood-and-children
by
Anne
on 12 April 2015
Reply
The top photo is of Charles and Ethel Sherwood's children. From l-r Denys born 1920( became a vicar) Bryan (born 1928) Winifred born 1913, died Mar 2013, Audrey (born 1926 - 2012) my mother.
by
Julii Swindells
on 15 April 2015
Reply
thanks so much for the correct ID, Anne, I will amend.
Add your comment