CA Sherwood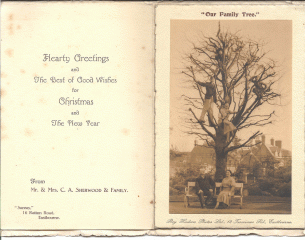 Christmas Card from CA Sherwood and family. Date?
Share:

Facebook

Twitter

Copy link https://swinny.net/Family_History/Swindells-Photos/-3893-CA-Sherwood
by
Anne
on 06 October 2017
Reply
Taken about 1936/7 in their back garden. I still have the seat, now 107 years old.
Top to bottom: Brian, Audrey, Denys, Winnie and Charles and Ethel on seat.
Add your comment