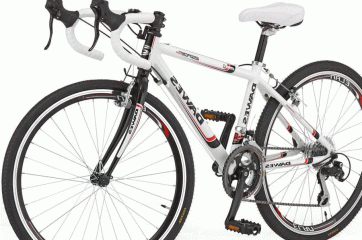 Since we started taking Izzy and Dan (aged 9 and 11 at the time) to some cycling events, including sessions run by
Tri-A-Sport
,
City of Norwich Triathlon club
and
Great Yarmouth Cycling club
I get to indulge in looking at lots of quality kids' bikes suitable for road, grass track or Cyclo-X racing.
Eleven year old Daniel now has a Trek 1.1 with 700 cc wheels. His previous steed was an Islabike Luath with 26" wheels, which is a popular choice for children his age/size. Nine year old Isabel raced and won grass and road events on a BMX GT bike, which is good due to its light weight - but the cranks were too long at 160mm.


24" Wheel bikes: Finding a bike for Isabel
Isabel also outgrew (for daily use) her Beinn 20 bike, which six-year-old Tristan needed to move up to anyway (having outgrown his Islabike Cnoc 16). I was minded to think that the best new bike for Isabel would be some kind of hybrid (like my own Marin Muirwoods). She doesn't do enough bumpy-path rides to justify suspension on her bike. All the 26" wheel bikes we looked at were a bit too much of a stretch for her, which meant getting her a 24" wheel hybrid model. This should generally be suitable for age 8-10. Initial screening yielded the following:
CUBEKID 240, £319, 12.7kg
DAWES TRACKER, £219, 12.3kg
GIANT MTX 250, price?, weight?
GIANT XTC JR TEAM 24, £275, 13.02 kg
ISLABIKE BEINN 24, £249, 10.3 kg
MARIN BAYVIEW TRAIL, £325-£345, weight?
RIDGEBACK MX24, £220, weight?
SCOTT SCALE JUNIOR 24, £329, 15 kg
SPECIALISED HOTROCK, £240, 11.1 kg
nb: I'm not even sure if some of these models are still available to buy new, or where. Question marks where I couldn't find the data. If I wanted something with suspension, btw, I'd look at the Cairn 24 or one of the Giant XTC models.
I felt guilty about buying yet another Islabike, I would actively like to support competition and seriously consider a different brand, but on those numbers it doesn't make much sense. The Specialised Hotrock is the only model that comes close to being as light a bike as Isabel needs, as any child who only weighs 25-35 kg deserves. In the end Isabel chose an Islabike Luath 24 (see more below) over the Beinn 24. We've now had the Luath 24 for nearly 10 months and Izzy has done a fair few 10+ mile rides on it; she is quite happy with her choice.


Racing bikes for kids
As an incentive to get more miles in, we agreed that after Dan rode 500 road miles on the Luath 26 (in the space of a year) we would upgrade his road bike.
700c Choices
I have been impressed by small frame Treks and Giants, the Luath 700, and the Dawes Espoir 3000 (which seems light but may not actually be lighter than the Luath). Small frame Decathalon bikes look good too, if you can get hold of one; they are no longer sold in Britain, but are available in European Decathalon outlets, a friend tells me. The Revolution Flyer (formerly sold by
Edinburgh Cycle Coop
) looks good on paper, too (but I haven't inspected one personally).
Some specific info on kids' racing bicycles that I've collected. Links by no means the best places to purchase each bike, by the way, shop around!
24" Wheels
Dawes Espoir 24
, £285-£385, ? kg. Frame size = 14", Min inside leg = 58 cm.
Moda Minor 24 Junior '10
, £315-£480, 19 lb (8.6 kg)
Islabikes Luath 24
, £350, 9.3kg
Barracuda RS-24 Junior Road bike
, £220-£250, ?kg. 14" frame
26" Wheels
Islabikes Luath 26
, £350, 9.8kg.
650 cc Wheels:
Moda Mezzo 350 Junior Race/ Triathlon Bike
, £450-£700, 8.8kg
Fuji Ace 650 Junior Road Bike
, £680, 10.5kg
Revolution Flyer
, £400, 9.73 kg
700c Wheels
Islabikes Luath 700 (small)
, £450, 9.8kg. Luath 700 Large frame is very similar
Raleigh RX Elite
, £800, 10.4kg. This is also reviewed on
youthcyclesport.co.uk
More comparisons of small 700 cc bikes
.
Some tips about height and gears
... a 12.5 yo boy should be just about 5' (152cm) tall on average. An average height 11 yr old boy is about 144cm. Most adult frames are meant for people over 5' tall. So until about 12.5 yrs old, most kids will need a proper child's bike or an XS frame size (13"-14"). I measured Dan's height about 6 weeks after he got his
Trek 1.1
, and he came in at 152 cm, just about tall enough. We temporarily swapped the stem from his Luath 26 onto the Trek 1.1, to make the reach just a bit more comfy. The Trek also has too big gears for BC rules (competitive events, to protect children's tender knees), so we need to (temporarily?) put a smaller chain ring on the outside of the Trek, or a self-limiter on it, if he wants to race on this bike. More about
Gearing decisions for youth riders and BC Racing rules here
.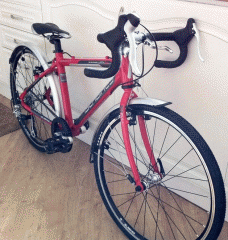 by
Pete
on 26 April 2013
Reply
There's a new bike on the block with spec previously unseen in the UK for kids racing bikes.
Check out Culprit Junior 1 & 2 bikes.
20" and 26" wheeled versions with Shimano 105 10spd, dual clamp multi position carbon seatpost, deep section wheels.
Speed demons!!
by
John Swindells
on 27 April 2013
Reply
Thanks for the heads-up on these, Pete! They're quite pricey but have a good specification and are light weight - perfect for racing. If my child was demonstrating an obsessive interest in bike racing then I might give them serious thought.
Some more info:
by
David Alan
on 07 August 2012
Reply
Hello:
I just thought to post here in the comments that I've got an overview / review of the above mentioned cycle, the 24" Boys frame Junior Denali Road Bike.
It fits anyone's budget, and works very well - without breaking your bank.
It's available on Amazon.com or www.bikes4families.com.
I assume Amazon will ship to the UK....(love to know if they charge you all there more or same pricing as we see here - pls comment & let me know if ya can...)
Here is my blog / site for the review: affordableroadbikereview.wordpress.com.
Thanks John for keeping this page up - even though you list Junior Euro bikes we don't see over here in the States, at least it give a reference point !
Best Wishes, David Alan - Texas
by
John Swindells
on 19 August 2012
Reply
That's a great review of junior bikes, David. Thanks for posting the link here!
You're right that model availability is often different between the USA and Europe, but things to look out for will be the same.
Happy cycling :)
by
M. Rizzi
on 23 May 2012
Reply
Not sure if this will reach someone who might be able to assisit me. Years ago I raced and also did some coaching of young people, under the age of 12. At this time we had a racing class called Midgets. They were not real midgets but young people under the age of 12. The bikes that were ridden were all 24" tubular wheels, both road and track. I have recently rebuilt an old track frame,that I was able to find after searching all over, for my Grandson who is 8. I had an old set of 24" wheels and was able to buy tubular 24" tires from a wheelchair company. The bike is not only beautiful, but also I believe the only one in the entire USA. I would like to send pics out of this bike, with the hopes someone will want to
once again build them. If you want children to learn to ride and fit a proper bike 26" wheel bikes are entirely to big. Because of the 26" wheels the entire bike needs to be made larger which makes the standover height higher. If anyone wants to see a pic of this bike, please
e-mail. Thank you M.Rizzi
by
mac
on 06 September 2011
Reply
Great article, thanks. I'm curious where the bike weights have come from though - if they are from manufacturers websites they are invariably wrong; sometimes by quite wide margin. Also, comparing the Isla bike mtb weight, with a rigid fork, with bikes that have suspension forks is not that useful. My son has a Giant XTC Junior 20 - which weighs 25lbs, my daughter has the Isla Bike Beinn 20 Large, which weighs 20lbs (not 19.4 as quoted on Isla Bikes website). They are both great bikes and the Isla bike is noticeably lighter; however, point them downhill and they both prefer the more planted Giant with it's small, but surprisingly effective suspension. I think this is important as one of the big kids complaints is about sore hands and arms; and this is more prevalent on the Isla bike than the Giant. Don't get me wrong, the Isla Bike is a great bike, but if you are going any distance or properly off-road, my experience is that weight, whilst important, is not the only factor to consider - and that's coming from someone who has no stickers on my road bike to save weight...Ideally, I'd get an Isla Bike and bring back the Girvin Flexstem to deal with trail buzz. Unfortunately, the Flexstem and the Softride version are extinct. Specialized are quoting 12.56kg for the Hotrock 24; it would be a first if it weighed less than quoted, as this article suggests; but maybe it does.
by
Julii Swindells
on 06 September 2011
Reply
We have to go with manuf. specs for weights, although I still can't find anywhere that says the
Hotrock is much different than about 10.9kg
? I have heard good things about the
Giant XTC models elsewhere
. There are moments I wouldn't mind suspension myself. Kids not complained about sore hands/arms even after 12 mile rides, mostly on road, though. Finding one sort of bike to suit all types of riding is tricky!
by
Matt Hicks
on 15 July 2011
Reply
Don't know if this is useful or if you can find this bike in your part of the globe (it's an Italian marque, so I would think it might be available), but Pinarello makes a 24" road bike: http://www.competitivecyclist.com/frame/2011-pinarello-fp0-kid-s-complete-bike-6397.html
by
John Swindells
on 23 July 2011
Reply
Thanks Matt, that looks like a pretty nice bike. We've seen a few child-size Pinarello's at races etc, but they're not common in the shops.
by
alastair bailey
on 13 January 2011
Reply
dawes say that the Espoir 3000 24" weighs 11.4 kg & has a 152 mm crank. Suprising - it felt lighter than that. It's available for ?239 from bikes2udirect.com which is an absolute bargain IMO.
That said, we've gone with the moda because of the bombproof reputation of sora shifters (the bike's got to last 2 children). The dawes has the 2300s which are less well received.
by
Alastair Bailey
on 10 January 2011
Reply
I spoke to moda (eurobike.uk.com) & they say that the minor weighs 19 lb (8.6 kg) & the mezzo (650 I assume) 8.8kg.
by
John Swindells
on 10 January 2011
Reply
Thanks for the info! Page now updated.
by
alastair Bailey
on 10 January 2011
Reply
great article tyvm. Nice to see confirmation that there really are only 4 24" road bikes available. Did you end up getting one of these? I want to get the Moda but am concerned that a 155mm crank might be too long for an 8yo.
Hello thanks for the review on the junior road racing bikes.
We aren't sure if our fickle young daughters, age 11, 9 & 8 will enjoy road riding. They already pedal 30 # mountain bikes and could use something with less effort required, but that won't break the bank. (I & our older 2 chidren already ride nicer road bikes for our club rides & races) Anyhow, we noted there is an affordable alternative - an entry level junior road bike, that gets reasonable reviews. I'm not sure if Amazon sells in the UK, but for what it's worth, here is the Junior Denali 24" road bike, boys frame:
http://www.amazon.com/gp/product/B000GU68S2/ref=oh_o00_s00_i00_details
At $ 196, if they don't take to road biking, it's not a huge loss.
The 32 reviews on Amazon are quite positive, keeping in mind the budget nature of this bike.
Another choice is the Giordano Libero 1.6 boys or girls 24" road bike, with higher level of equipment (shimano STI brifters, etc), and at a still reasonable $ 399:
http://www.bikes4families.com/giordano-girls-giordano-libero-16-24-inch-road-bike-p-414.html
No reviews yet, but looks very good, too.
Thanks David Alan (Texas)
by
John Swindells
on 10 January 2011
Reply
We bought the Islabikes Luath 24 just before Christmas, and daughter has hardly ridden it because of the weather. She rode it at the weekend though, and got on very well! Very low effort riding, and good acceleration and control.
Add your comment