Tour de France 2012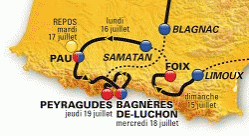 The 2012 TdF is a clockwise affair this year, starting in Liege (Belgium), twisting around northern France and the Alps before heading westward to the Pyrenees towards the end of this most arduous of Grand Tours. For a map of the tour and a description of the stages, see the Tour 2012 on letour.fr.
This configuration makes it a perfect opportunity for me to head down to the Pyrenees with my son (the second his school holidays start), and hopefully catch some classic mountain climbing and breakaways. We have to bring our own bikes of course, so that we can savour the French countryside and test ourselves on some of the cols.
To make this holiday a success, there are several logistical areas to address:
What possessions and equipment to take
Getting down there
Where to watch the Tour
Where to stay
Hopefully we'll address all of these issues, so read on!
Preparing for the TdF Pyrenees Trip
Here is a list of things we need to have organised before (in some cases, long before) we go:
Passports Physically locate each traveller's passport, and check that it won't have expired by the end of the trip. Don't just rely on memory, or assume that you know where they are! If you need to renew or apply for a new one, allow a couple of months to do so.
Money You will need Euros in France (and Spain, if you fancy traversing the Pyrenees), so get some currency ordered and collected around a week before you go. We are just using our local Post Office, and reckon that €50 per day should cover it - paying for bigger things like accomodation by credit card.
Mobile phone roaming Since the start of July, mobile data roaming charges have been capped by law, and you are also notified by your network operator what the roaming charges will be when you enter a new region. For us, we shall use Vodafone's £3 a day service (just by calling 5555) that expands our monthly usage allowance to anywhere in the EU. Check with your own provider to see what they offer! If you do decide to use data roaming, also check that you've enabled it on your phone; it's usually the sort of thing that's turned off by default.
Travel insurance Before you dive in and order travel insurance, check whether you have it bundled already in your home insurance or your bank account. Whatever provision you already have or decide to buy, check the terms and conditions carefully - especially cancellation cover.
Get an EHIC This isn't as painful as it sounds. It's an NHS health insurance card that proves you are entitled to free (or reduced cost) medical cover within the EU. Go to ehic.org.uk (an NHS site) to apply; you'll need to know either the NI number or NHS number for each adult and child travelling. Once you've applied, wait for the cards (one per person) to be sent to you. If you don't get the card in time, you are still covered and can call the emergency number if you need medical assistance in the EU: 00441912181999.
It's quiet in here...
Add your comment