Robson and related families, in England, Chicago and California.
My grandfather,
Robert Francis Brainard
, was the only son (only child, even) of Ella May Robson and George Robert Brainard. Brainard family history is so well-documented elsewhere I won't add much here. All Brainards descend from a single immigrant ancestor, Daniel Brainard, who came to Connecticut as a young boy and indentured servant in about 1649. George's mother was
Nellie Slater
, also a descendant of early Puritan settlers in New England (including the Mayflower pilgrims). Born in 1898 only about 50 miles from the town (Haddam CT) that his progenitor Daniel had founded, George Robert Brainard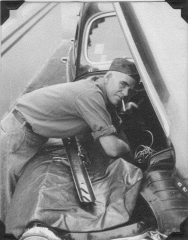 was a sickly child, who missed a lot of school due to illness and restorative cures in the countryside. He spent a lot of that time tinkering with automobile engines. George enlisted in the Army at the onset of American participation in WWI. The Army sent him to California to be an instructor to trainee mechanics. George settled in California post discharge, near his brother Nelson, where he met and married Ella May Robson. He later established a gas station and garage in the wealthy San Marino area.
The marriage of Ella and George was brief ending in divorce in 1924; young RF Brainard saw little of his father growing up. According to my grandfather, his mother was an untreated manic depressive, and he had a lot of anger at her for it. He recalled her lying on the sofa all day, complaining of headaches and generally incapacitated; the family lore says that he was an only spoilt child in a wealthy household full of indulgent adults: his mother, his unmarried aunts and uncle, grandmother (Ella Louise Robson), and great-grandfather Henry Luscher
(more about the Luschers)
. As a result Robert Francis grew into an unruly teen who could only be controlled (somewhat) by his aging grandmother.
Ella May Robson
had the lifelong nickname "Dinah" -- how she acquired that moniker has been lost to history, although I imagine it was something her younger siblings invented for her. She was the eldest of four children born to Alexander and Ella Louise (Luscher) Robson. From my father's research we know:
Dinah's siblings were Mary, Inez, and Gerald, none of whom had any children of their own. Inez was a businesswoman who never married, and both Mary and Jerry married relatively late in life.
The Robsons attended predominantly Mexican Catholic church services; this was frowned upon by their white Pasadena contemporaries.
They were wealthy upon arrival in Pasadena, but lost a great deal of money in the aftermath of the 1929 Wall St. Crash (collapses of Chicago banks in 1933).
Robert Francis was involved with quite a few street fights with Pasadena's African-American population.
About Dinah's father::
Alexander Gillan Robson
was born 8 August 1868 in Chicago Illinois. He was an exceptionally tall man, standing 6'7", and attended university to obtain a law degree. He married Ella Louise Luscher on 20 Jan 1897 in Chicago (license is viewable online). Most of his fortune was made for a meat packing company, Swift & Co.; AG Robson was a company vice president and had amassed a small personal fortune by the age of 34. He had chronic ill health, though, which spurred his migration to California in 1902. In California he attempted to build up a law practice but found the work too dull; he returned to being a buyer for Swift & Co. but contracted pneumonia six months later (supposedly from working in frozen meat lockers), dying from it in 1908.
AG Robson was one of 5 recorded siblings, all born in Canada except William: Mary E. b. ~1861; John b. ~1862; Isabella, a school teacher, b. Apr 1866; William b. Dec 1872, and "too unhealthy to ever work" according to 1900 Census. Their parents were:
Alexander Robson b. Jun 1833 (1900 Census data) in Ripon County Durham, ENGLAND, The records for his marriage say:
1858 Oct 25 Toronto York Co. Canada Marriage of
Alexander Robson age 25 b. England, father = John Robson, mother = Isabella Ward
to
Mary Ann Brady 23 b. Ireland, father = David Brady, mother = Elizabeth Keril
Witnesses = James McCarthy & Ann McMahon
Minister = Rev. J.R. Ouellete, Rector of St. Michaels
I suspect Keril is a var. spelling on Carroll; Mary Robson gives her birth as April 1833 in the 1900 Census, so it seems that above should read '25 years old' for her.
The Brady family are easy enough to find with seven of their Canadian born children in the 1861 Canadian Census:
1861 Census Ontario York, York, Canada West
b. in Ireland: David BRADY 60, Elizabeth 50 CHURCH OF R
b. in Canada: Sarah 22, Alex 21, David 19, James 16, Edward 14, John 11, William 9,
I am struggling to find the Bradys in other years. Widowed Elizabeth Brady is to be found living with the Robsons in the 1900 Census. I haven't been able to trace her and her husband's origins back within Ireland
Alexander Robson Snr.
was naturalised as a US citizen on 27 March 1876; he is noted down as a carpenter in the 1900 Census; he is said to have run a cabinet shop in Chicago. As noted in comments below, via
IL search engine
, Alexander died on or before 31 Aug 1900 (age 67), and Mary died on or before 28 April 1914 (age 81, so her birthday was earlier that month), both in Cook Co. IL.
Of Alexander Snr.'s England-based parents, the 1851 Census says this about them:
1851 England Census Hartlepool Durham
John Robson 43 b. Scotland
Isabella 41 b. Ripon Yorks
b. Ripon, Yorkshire: Alexander Robson 17, Mary 15,
b. Hartlepool: Thomas 13, Elizabeth 9, James 7, William 5, Margaret 3, George 1
Other Robsons did not seem to emigrate.
One of the Ancestry.com trees reckons that John was a publican (ran a pub). There are several records for the christenings of the children in the Catholic church in the 1830s; John says in the 1861 Census that he was born in Dumfries (Scotland). Our oral family history suggests that maybe John arrived in England as a small child, and served a stint in India whilst in the British Army, before marrying a local girl (Isabella Ward) in County Durham. I haven't had any luck in reliably tracing the Wards or Robsons before John and Isabella.
Add your comment