Cyclocross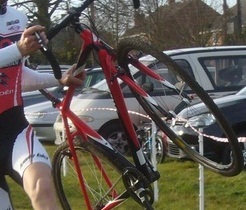 Cyclo-cross is the less well known of the cycling disciplines, maybe because it doesn't qualify for either the winter or summer Olympics calendars. It really is a mixed bag! Having said that, the sport is in rapid growth, at all ages, although it's still not as popular with women and girls. Races are typically broken up by age groups.
Regional Leagues in the UK
There are a number of UK cyclocross leagues that anyone with a British Cycling license can join. Here is a list, heading roughly from South to North:
If I've missed any out, give me a shout!
This search box will only get results from selected cyclocross websites:
Useful Links
For some useful background information from someone that knows, watch this British Cycling video featuring David Fletcher (2008, 2009 UK cyclocross under-23's champ):
Further Reading
Now that the league is open for online registration, I thought it would be good to have a page of useful information about it. Registration ...

All cyclocross course are the same, right? Wrong! They all have certain basic requirements - fast off-road riding, obstacles, technical sections ...

If you are thinking about having fun on your bike but don't fancy racking up miles on the road, then cyclo-cross may be for you. Here you ...

Everyone enjoyed a really warm day of racing and spectating at the Mistley Cross event on Furze Hill. After last year's storm damage, the ...

A soggy bottom caused by recent heavy rain did little to slow the pace in all the races at Chelmsford's Springfield Hall Park on Sunday. There ...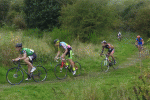 What a hot and dusty event! With no rain falling in weeks, occasional sunshine, temperatures nudging 20 degrees C and a strong breeze blowing ...

It was a warm day of racing on the Gloucester Park hill in Basildon, and most people had an enjoyable ride on the grassy climbs and descents ...

Conditions were bright and cool, with a light south-westerly breeze that wasn't much of a hindrance to the riders. Womens' and Vets Race ...

Weather conditions were perfect and competition was fierce on this brand-new custom-built course at Trinity Park in Ipswich. The course was ...

Conditions were perfect for the Hempton cyclocross event, despite a misty start to the day and rain earlier in the week. A light breeze made ...
There's a blog entry on the rapha.cc website, UK Super Cross 2013 - Rounds One & Two, and they also have a page of 2013 Super Cross Series ...
There's a blog entry on the rapha.cc website, UK Super Cross 2013 - Rounds One & Two, and they also have a page of 2013 Super Cross Series ...

Scattered showers in the days leading up to the event made for some very muddy and tricky riding. The early racers (under 10s and under 12s ...

Under 10's Race Despite starting near the back, on the third row of the grid, Tristan managed to finish 4th and was very happy with it. ...
The 2013-14 league entry for cyclocross in the eastern region was opened on August 15, and is administered on the BC website: Eastern Cyclo ...