Time Trialling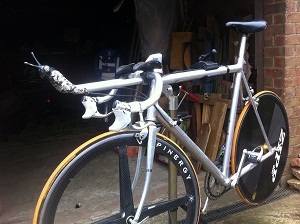 Cycling Time Trials (CTT) is the authoritative body for time trialling in the UK. It has a highly active and forward-looking membership, and this is reflected in its informative and up-to-date website. A handful of events allow online entry; you can filter for these on the main CTT website, or go to the Online Event Entry portal to sign up and enter. (Note that payment is by credit or debit card, and there's a 70p surcharge as a result.)
East District time trials: All East District events for 2013, on the CTT website.
Map of Time Trial Courses
This map shows the start points of selected time trial courses. It isn't complete! Please contact me if you'd like to add some in your own region, or if I've made any mistakes.
View
UK Time Trial Locations
in a larger map
Time Trial results and photos
My Personal Bests
10 miles - 21:07 CC Breckland event (B10/3E) on 3 June 1998, won by Martin Pyne (20:56)
25 miles - 55:18 Cambridge Uni CC event (B25/38) on 3 May 1997, won by Adrian Worthington (51:18)
50 miles - 1:53:47 Oxford Uni CC event (H50/14a) on 15 June 1997, won by Harry Walker (1:43:19)
100 miles - 3:57:33 NCA event (B100/7) on 24 August 1997, won by Tony Barber (3:57:07)
12 hrs - 254 miles CC Breckland event (B12/2) on 15 September 1996, won by Tony Barber (265 miles)

The procedure of entering a cycling time trial in the UK is straightforward, but there are several things you need to know. This guide explains ...
11 May 2013
My ride was aborted due to intense pain and stiffness around the lower back, possibly related to the disc hernia that I've been diagnosed with ...
09 May 2013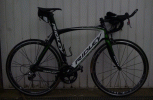 Bikes customised for time trialling are great. They are designed from head to toe with a focus on aerodynamics and comfort, making sure that ...
29 Mar 2013

If you want to get non-blurry pictures of time triallists (and you're not a terribly good photographer), then being a helper on the start line ...
17 Mar 2013

Played out in chilly conditions, gritty and dampish roads, and a rising southerly breeze, this sporting course event tested the staying power ...
02 Mar 2013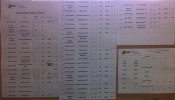 Conditions were almost perfect for the region's opening 10-mile time trial, on the B10/19 course from Hingham to Watton and back again. The ...
07 Apr 2012

A sunny but chilly morning greeted the early risers for Great Yarmouth CC's Good Friday '10. The cold (almost freezing) and a brisk breeze ...
19 Mar 2012

Heavy rain overnight meant that there was lots of standing water on the Somerleyton course, and temperatures were quite low on the overcast ...
02 Oct 2011

A fantastically warm day on the B10/43 course, with a light south-westerly breeze. Despite the excellent conditions, times weren't terribly ...
24 Sep 2011

Conditions were overcast at a temperature of around 20 celsius, and a gentle south-westerly breeze. Field size: 75. Great Yarmouth CC Times ...
12 Sep 2011

Conditions were warm and sunny, but breezy (brisk south-westerly). Field size: 69. Great Yarmouth CC Times Here are the GYCC times. That ...
08 Aug 2008
The BBC reports that Jason MacIntyre has died after a collision with a van. Aged 34, he had just been given funding to train for the Commonwealth ...
08 Oct 2006
Sunday 8 October 2006 This was a cool but sunny and calm morning, with temperatures and breeze rising slowly. Road traffic was quite light ...
07 Oct 2006
Conditions were sunny and mild (around 16°C), but a brisk westerly breeze took the edge off the times.
07 Oct 2006
Saturday morning time trial, Fred's going balls out - it's obvious he's on to smash the club record. Suddenly a funeral procession appears ...