Cromer: A Great Seaside Resort!
The North Norfolk coast can be shrouded in mist or blasted with freezing winds when the rest of the county is sweltering. Catch it on a nice day, however, and you should have a great time.
Cromer is the main 'resort', and is easily accessible by train, bus or car. If you're feeling energetic it's a mere 25 mile cycle ride from Norwich down idyllic country lanes. It has all the usual trappings of a resort, with amusement arcades, dozens of fast-food outlets, knick-knack shops and ice cream stalls crammed in to the streets by the pier. There is also a miniature fairground to the east of the pier, with helter-skelter, merry-go-rounds, a bumpy slide and others to keep the kids amused. As of June 2004 the pier was closed for maintenance, but should be opening pretty soon; more details from Openwide International.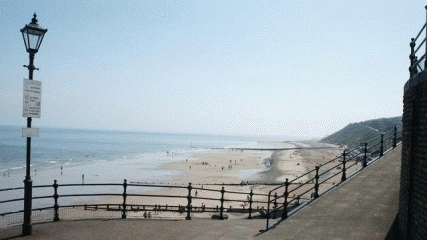 The resort offers pleasant clifftop walks and sandy, clean beaches.
Groynes are still vital for keeping the beach in place!
Taking the Bittern Line to Cromer
Cromer isn't the last stop on the line (Sheringham is), but it's a pleasant end-line anyway.
Gunton Station is on the line...
...and it has some wonderful preserved features from the Great Eastern Railway (GER) days.