Our Little Cat Family
We have brought two little black cats into our chaotic family, so here you will find lots of pictures (not too blurry) and experiences, plus a free tips that we pick up along the way.
Their names are Claudius and Nero. So far, we've worked out that Claudius is extremely greedy but isn't too keen on attention from us. Nero on the other hand is the complete opposite, liking to curl up on a lap rather than sniffing around the kitchen for scraps.

31 Oct 2015
I disturbed a lot of frogs when moving our garden pond, and Nero hung around so that he could practice his stalking skills on them. Here he ...

10 Sep 2015
Kubrick is usually extremely quiet and grumpy, disliking attention and generally doing very little. This afternoon, though, he had a sudden ...

30 Jan 2015
One time that the cats don't fight is when they're being fed - although they do have a strict pecking order. Claudius has first go, followed ...

13 Jul 2013
Kubrick, our grumpy middle-aged bachelor cat, appeared to have actually melted in the heat of the afternoon sun today! He usually scarpers ...

25 Nov 2012
Kubrick is a cat who was looking for a new home, after his current provider started plotting a pan-European adventure in a motor home. We ...

29 Jul 2012
From Julii

What's wrong with regular cat food? I should preface by saying that I don't think it matters as much as some people make ...

09 Jun 2012
Nero is very good at catching small mammals like mice, but here is a tasty little shrew that he caught. We wonder if he'll get around to eating ...

06 May 2012
There's nothing nicer than a dead mouse to crunch on... if you're a cat with a big appetite, that is. Fortunately, Claudius (with the appetite ...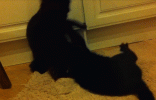 06 Apr 2012
Nero and Claudius have quite different temperaments, but neither can resist the offer of a play fight! More often than not it's Claudius ...

29 Jan 2012
Making a cat tree is fun and easy, as long as you have a few basic DIY skills and tools. The only tools you need are a saw, drill, screwdriver ...

26 Jan 2012
Here are a few pictures of the kittens relaxing and sitting to attention. Despite being very playful, they are capable of sitting around for ...

25 Jan 2012
The kittens (Nero and Claudius) are very good at playing with each other, but that doesn't stop the kids trying to join in!

14 Jan 2012
Here are a few pictures of Nero and Claudius as they check out their new home and figure out their new housemates!