Technology
The modern world is supported and influenced by technology in a wide variety of ways. Almost nobody in the developed nations can claim to be free of technology, and in fact most homes are stuffed with highly advanced gadgets and appliances.
In this section you will find articles on Personal Computers and their operating systems, notably, Windows Vista and Linux. We also look at the ever expanding and evolving topic of Internet Access.
An expertise of ours is Programming, and particularly Programming for the Web. One useful tool is our What is My IP page!
Tech Tweets
Tech4.eu: view all the latest tech tweets.
Sandbox
swinny.net/showcase: see what tech developments I'm playing with.
Further Reading
28 Oct 2014

Smartphones are exceptional pieces of kit nowadays. Models like the Nokia Lumia, HTC One and Apple iPhone have reached the point of being ...
30 Nov 2013

These are books that every good geek and tech follower should read, for the most part because they give an important historical context to ...
03 Oct 2013
Luna speaker dock £40 from Play.com Power output: 15w + 2 x 5w (RMS) / 150w (PMPO) Henson Audio HDB-400 dock £70 from Amazon 40 Watts ...
23 Mar 2013
Have you heard of in-app purchases? If you haven't now, you might have by the time your credit card bill or bank statement comes in. It's ...
03 Oct 2012
Apple has launched its new flagship phone, the iPhone 5, and at the same time has released its latest mobile operating system (iOS-6) to anybody ...
26 May 2012
Going abroad with your smart-phone? Understand roaming! Nowadays there's no excuse to be 'ignorant' of the colossal charges you could incur ...
15 May 2012

Here are the command-line steps needed to get a bare CentOS distro ready for full LAMP (Apache-MySQL-PHP) hosting: (Note - replace mysite ...
13 May 2012
Apple has recently bumped up its security procedure, by asking subscribers for three questions and answers that can be used to verify their ...
27 Jan 2012

I'm not one to complain about a free service like Facebook, especially when it works so well at keeping people in touch, but... I was very ...
28 Nov 2011

It's time to start labelling your content. If you're one of those web publishers who spends a lot of time writing (or sourcing) decent content ...
23 Sep 2011

The fantastic people at Facebook certainly know how to progress, improve and revolutionise. They sometimes take flak for a new feature, especially ...
21 Sep 2011
Google Plus (or Google+ for short, or G+ for even shorter) is search giant Google's latest attempt to 'go social'. It is doing this so that ...
01 Sep 2011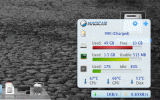 There is a rather neat system monitoring tool, Magician Monitor, which is free to download and gives a handy view on how much network, CPU and ...
31 Jul 2011
Hitting the power button on my iPhone this evening, I was shocked to discover that the screen was zoomed in - the 'Unlock' slider was massive ...
27 Jul 2011
Webmasters around the world have been affected by Google's major shake-up of its search rankings. Know as the "Panda Update", it puts a real ...