04 Feb 2012

ADSL is a proven, reliable technology, and on the whole it delivers a decent service for its users almost all of the time. When things go ...
07 Jan 2012

Does your wireless router have PIN technology? This is where you can connect your computer to the router by pressing a button on the router ...
01 Dec 2011

As part of the Digital Economy Act 2010, Ofcom has a duty to report on the state of the UK's telecoms infrastructure every three years. Consequently ...
08 Oct 2011
A survey has found that over half of all home wi-fi networks in the UK are insecure and can be hacked into in under 5 seconds. A lot don't even ...
12 Jan 2011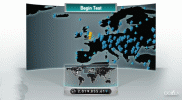 To see what broadband speed you're getting, go to www.speedtest.net and click "Begin Test" to check your connection's latency (network delay ...
05 Jan 2011
Internet access provider Plusnet advertises itself with the slogan "Good honest broadband from Yorkshire" and promotes itself with various people ...
18 Nov 2010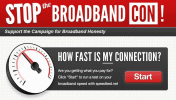 A Virgin Media campaign is gaining momentum: broadband providers need to be more honest about their service speed. "You should be getting what ...
16 Oct 2010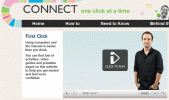 You might imagine that everyone is online nowadays, at some point in their waking day. Well, it just isn't true, and for those people without ...
29 Sep 2010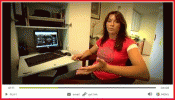 How ironic. As part of their 'Gadget Show Truth' campaign, the Gadget Show on Five ran a piece this evening (20:45, 12 November 2007) on how ...
07 Sep 2010
Here are some people's experiences of their broadband provision. Some are quite vocal about how good or bad it is, and others are more candid ...
14 Aug 2010
Westminster eForum Keynote Seminar "Taming the wild web 2010 - building a safer cyberspace" on 12 October 2010 in Central London. Speakers ...
23 Jul 2010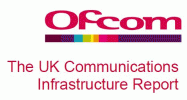 What is net neutrality, and what does it mean to you? Can we possibly have a level playing field when it comes to service provision, and yet ...
03 Jan 2009
http://www.thinkbroadband.com/news/3822-virgin-media-50meg-product-is-it-a-revolution.html Broadband has come a long way in eight years, from ...
01 Aug 2008
Up to 10 million homes will get fibre-optic based broadband in the next few years, if recently announced plans to replace much of the UK's existing ...
27 Mar 2008
Dabs is taking pre-orders on the Belkin N1 Vision Modem Router, which features a large display that shows your network's broadband speed, computer ...