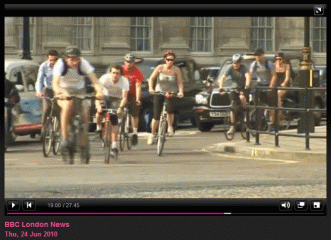 BBC London News reports that fines are being issued for not wearing a helmet. This is incorrect, so here is my email to
yourlondon@bbc.co.uk
:
Hello, your recent report states that cyclist may be fined for not wearing a helmet. This is incorrect and you need to publicly retract the statement.

Kind regards,
John Swindells
Update, 6:50PM Friday 25th June The BBC iPlayer news report has been taken offline despite having time left to watch it: No longer available on BBC iPlayer.
by
John McAleely
on 25 June 2010
Reply
I've developed a geographical habit with my helmet wearing. I don't use one while bumbling around Cambridge, but do use one when I go out in London.
Add your comment